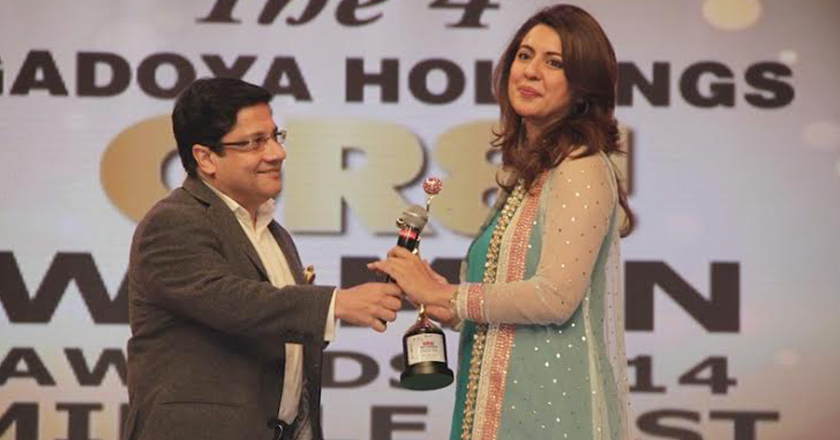 Sidra Iqbal, a noted Pakistani journalist, TV anchor and a motivational speaker has made the Pakistani nation proud by winning the GR8 Women Award 2014 held in Dubai. 
GR8 Women Awards by Indian Television Academy are given to those few female journalists or media personnel that deserve recognition and appreciation for their creativity and hard work in the journalism and media industry.
Sidra walked proudly to the stage to receive the prestigious award given by the CEO of Times of India, Mr. Ashish Bagga.
Sidra Iqbal at the fourth GR8 Women Awards 2014, in her post award receiving speech stated the following,
"As a journalist in Pakistan we are faced with a fast changing political and security environment, sometimes so rapid in changing tunes that it leaves us gasping to understand the real nuances. The assignments take me everywhere, from closed door media briefings at the Presidency, to scenes of utter devastation after a natural havoc, but the most trying of experiences has been to meet and interact with the courageous women who mourn the untimely deaths of their loved ones at the hands of extremist attacks. In the past few years more than 50,000 innocent civilians have lost their lives in these terrorist attacks in Pakistan." 
Sidra Iqbal, an entrepreneur, communication strategist and a youth development activist is a rising star of Pakistan who is well known for her endeavors and her motivational role as an active journalist, a Pakistani entrepreneur running Status Pro Incorporate – a PR company – and more prominently as a youth icon.  Sidra has truly proved that,
You can follow Sidra through her official Facebook page here.