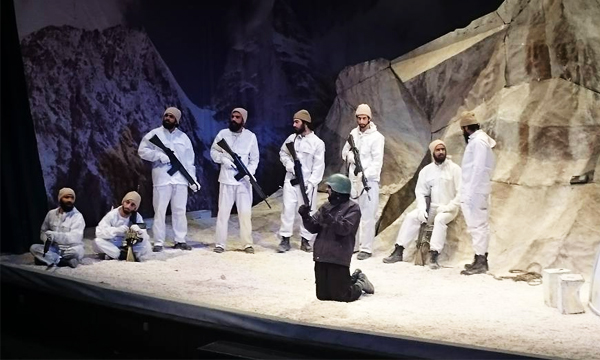 Expectations always soar high whenever KopyKat Productions collaborates with Anwar Maqsood – be it Pawney 14 August, Sawa 14 August and Dharna. This time around, the team picked a touching topic about the lives of soldiers who live in the harsh sub-zero temperature region of Siachen.
Set in the perfect setting of glaciers and snow-covered mountains, KopyKat Productions took us to the real world of soldiers combating at borders to defend their motherland.  The play narrated the story of nine soldiers facing deadly cold weather, millions of miles away from their loved ones.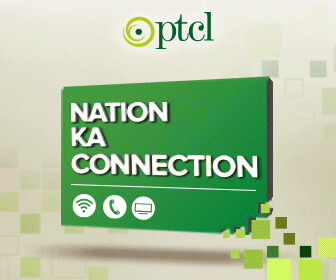 Sawa 14 August: Experience Jinnah, Bhutto and Zia Together On Stage
They lived in a base camp placed in the center of glaciers. While they were tense and disturbed due to harsh weather conditions there was a unique bond of love for country which kept them together. They teased, irritated and made fun of each other but above all, they were available to provide moral support to each other.
Before the curtain opened, the writer set the mood for a hilarious night by sharing his experience of sending his script to ISPR official spokesperson Asim Bajwa for approval.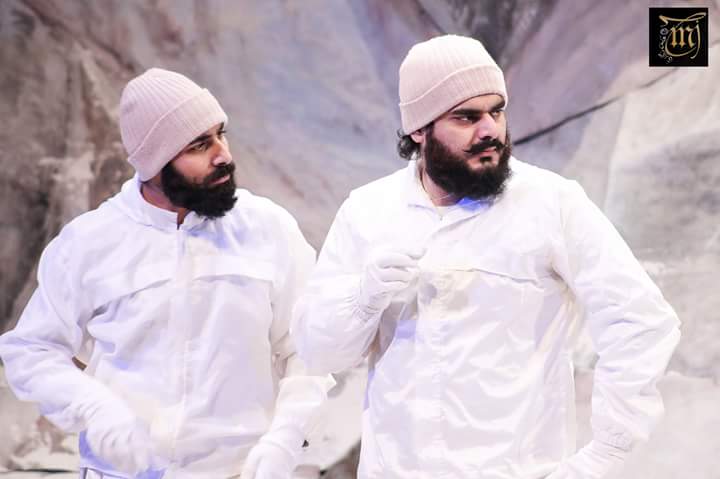 As expected, he made a few amendments in the play including a line where a soldier Deen Mohammad said that General Asif would never come to visit Siachen from Karachi, "jab woh katti pahre tak tu ja nahin sakte tu Siachen kahan se aye gen".
This prologue was a just a glimpse of a brilliant script that enthralled the audience throughout the night.
The play kicked off with soldiers saying farewell to their family members – a mother sent her last son on war, a sister asked her brother to return before her marriage and a pregnant wife was sadden on the departure of her husband.
The rest of the play was led by a group of young boys portrayed as jawans of the Pakistani army. They expressed an excellent sense of humor while chit chatting with Indian soldier Kabir Singh on cricket. The witty exchange of words brought a burst of laughter and kept the audience glued to their seats.
The conversation came to an end when Pakistani captain sarcastically called Sikh the wisest man on earth.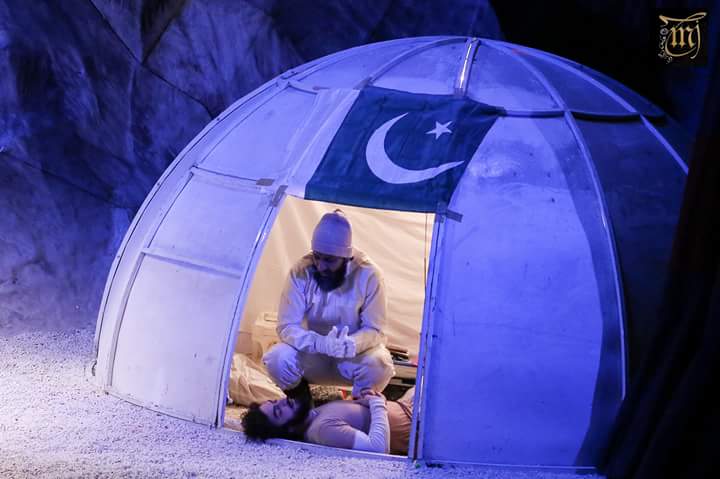 The highlight of the play was definitely the surprise entry of Yasir Hussain as an Indian Bihari soldier who accidently lands at a Pakistani camp. While his accent and limited knowledge about Pakistan proved him as an alien among others he kept on calling himself a Lahori Munda.
Another soldier Musa Khan won us over with his amazing act. The typical Pathan fell in love with BBC journalist (Hajra Yamin) who came to cover their activities. Later, in order to save the girl from Indian army's bullet he gave away his life and confessed his love for her in last few trying moments.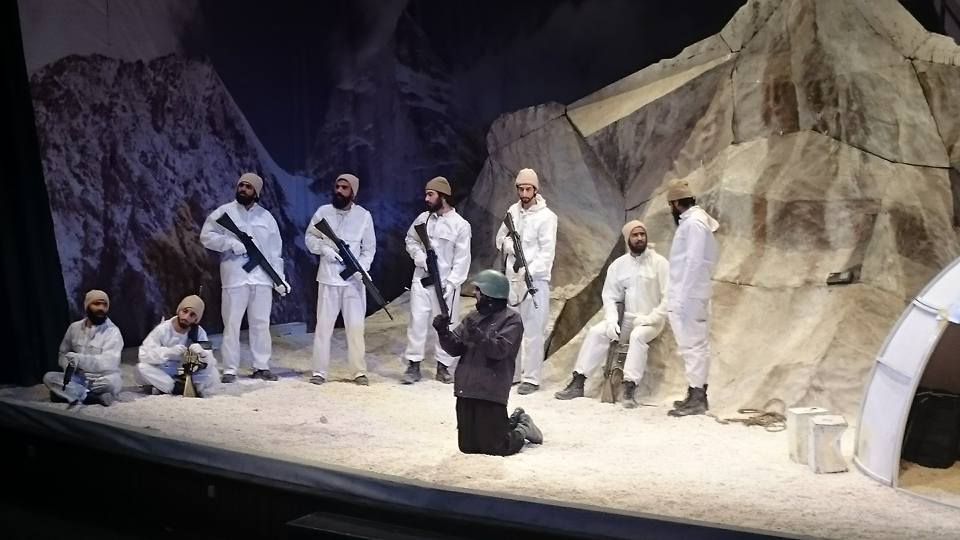 The director Dewar Mahmood used innovative storytelling techniques to engage the audience, he experimented with several flashbacks to hook them – in one such interesting moment a Pakistani soldier gave instructions to his beloved of things to do in his absence. Hilariously, he asked her to don't give her cell phone number for easy load and never visit tailor's shop instead allowed her to send her blouse for stitching measurement.
Overall, Siachen proved to be a brilliant production with hard-hitting dialogues and mind blowing performance. While actors raised the bar of the theater with their top notch performances, the director and playwright once again proved that theaters medium could be effectively used to convey a serious message on a lighter note.