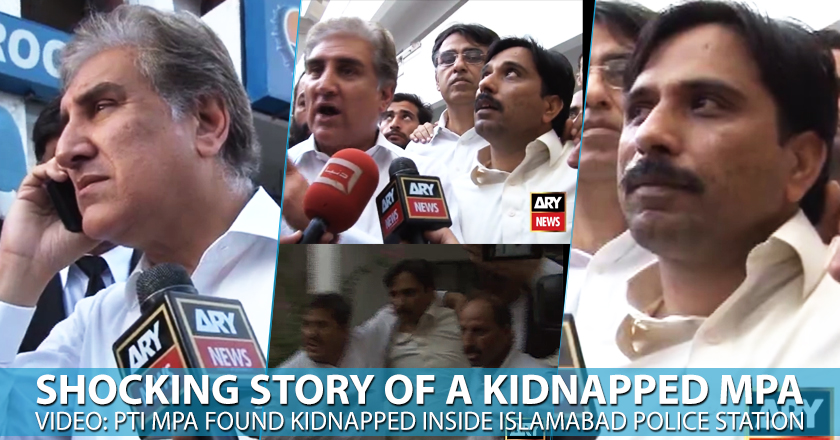 Watch as Member of Khyber Pakhtunkhwa Provincial Assembly, Iftikhar Ali Mashwani being kidnapped in Islamabad police station. This video was removed from the media for an unknown reason. ARY reporters can be seen clearly on sight, interviewing Shah Mehmood Qureshi, Asad Umar and Arif Alvi – three of the biggest political leaders of Pakistan Tehreek e Insaaf.
What do you call a state where a sitting Member of Provincial Assembly are being abducted? A democratic State. "A state with utmost respect for Democracy and none for its people."
Watch a rather unusual event which was removed from the mainstream media:
Shah Mehmood Qureshi further claims that many other PTI members are also abducted by the Government and Police without proper proof or filing of any legal charges. Arif Alvi, the veteran PTI leader from Karachi can also be seen in a rather shockingly aggressive state, something the man is not famous for.
Asad umer on the other hand, seemed as composed as ever. As seen in the video, Iftikhar Ali Mashwani was in fact taken  hostage by the police, exactly like the PTI leaders claimed. After which the police officers on duty were no where to be seen.
Much like his teacher Socrates, Plato always despised Democracy. Two of the best minds to have ever born in human kind, considered democracy to be the worst mode of governance. Plato went on to found 'The Academy', the cornerstone of human intellectual evolution.
Pakistan on the other hand seems to be on a completely different universe. save the democracy, even it means being ranked amongst the worst places to be born in or in leading the world in the charts of corrupt states.