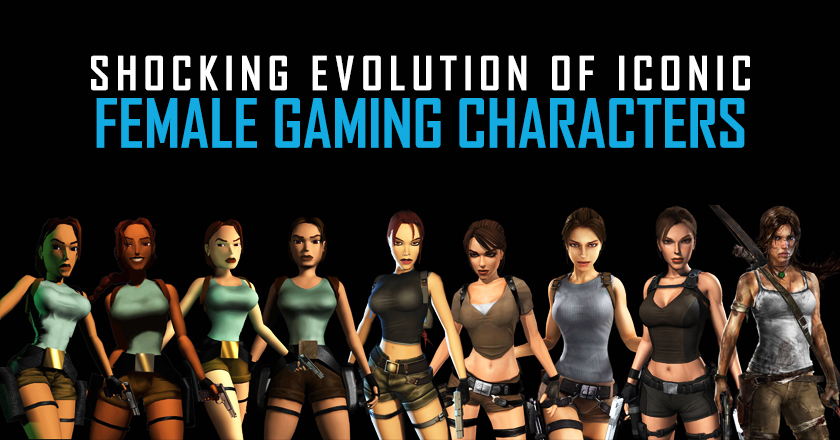 We have always talked about celebrity transformation over the course of time, but this magical process of makeovers is not only limited to reality TV.
With the due process of redesigning and remodeling even gaming characters have been transmuted. And most of the times these variations have resulted in severely sensual outcomes.
Brandsynario brings to all the gaming junkies; eight legendary characters and their physical evolutions over years.
Samus Aran in Metroid
Samus Aran is the lead Space Hunter of The Metroid series, who fights evil in a huge armoured suit. Initially apprehended as a man, at the end of the game Samus Aran rips off her suit for the big reveal and there she is either wearing one-piece bathing suit or a bikini.

Princess Zelda in the Legend of Zelda
The nominal character of this famous Legend of Zelda series, she isn't always the star of the screen, but she's always there, guiding the people of Hyrule with her wisdom.
There have been various series of the game, though each time the princess is similar to the previous one.
Chun-Li in Street Fighter
Much-loved video game Street Fighter has boosted many iconic characters, and among those Chun-Li, a Chinese girl who can kick an enemy into oblivion.
Chun-Li has maintained her busty-meets-muscular build, although a few changes in her appearance have definitely transformed her to a new level.

Lara Croft in Tomb Raider
Lara Croft is one of the most famous gaming characters of all times. Lara is always attired in a tiny tank top and even tinier shorts, the tough – rich Englishwoman with a weakness for hunting treasure.
With every new series, Croft has finally started to look like a woman – Physically.

Cammy in Street Fighter
On the other end of the SF spectrum is the busty, blonde Cammy. She appeared in Street Fighter II for the first time.
Usually she is seen in a military green bodysuit and a red beret, Cammy is a member of Delta Red. Her character is mostly famous for her sexuality and racy appearance.
She has also appeared in other games as well, like Marvel vs. Capcom 2.

Jill Valentine in Resident Evil
Jill Valentine is the major character in the petrifying realm of Resident Evil. She's a vastly skilled bomb expert and an alert fighter who loves playing with weapons and crushing zombies.
Claire Redfield in Resident Evil
She appeared in the second Resident Evil for the first time, Claire Redfield is one of two playable characters.
She is a 19-year-old little sister of original character Chris, who went missing in the second game. An apprentice at the start, but later she picks up in order to escape the dangers of Raccoon City.

Meryl Silverburgh in Metal Gear Solid
Meryl Silverburgh is the first lady of the Metal Gear series
Meryl Silverburgh debuted in the third game of Metal Gear Solid. Initially she appears as a recruit and a love interest of a main character Solid Snake. She is usually attired in a tank top and pants.

This article is written by Zenub Ayaz