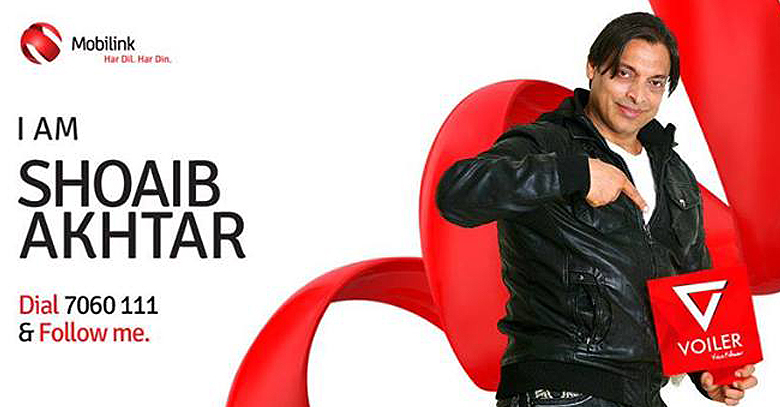 Mobilink brings 'Voiler' – social networking services to compete with Twitter and Facebook.
With Voiler Mobilink customers can now freely listen to Voils (voice tweets) from their loved ones, favorite celebrities, politicians and they can also create their own Voils.
Customers who subscrib to this service will be called 'Voilers', therefore 'Voilers' will not only be able to send 'Voils' to their friends and family, they can also put the 'Voils' up on their social network (after making a profile, like in Twitter or Facebook) for their followers.
Voilers can also keep up with their favorite celebs by "listening to their voice tweets". The service can be used by any headset with a Mobilink connection.
The celebrity Voilers for now include; Shoaib Akhtar, Ali Azmat, Shaista Wahidi, Imran Abbas, Sana, Fariha Pervaiz and Juggun Kazmi.
Mobilink Voiler is the first of its kind service in Pakistan – in the words of Mobilink, "Mobilink Voiler is an IVR based voice-messaging, social networking service, like twitter, but better, it's all Voice!"
Mobilink has taken aboard Shoaib Akhtar as a Voiler for 'The Bowling Camp', Ali Azmat and Fariha Pervaiz asVoilers for "Gao Merey Sath", Shaista Wahidi, Sana and Imran Abbas with "Aik Din Star K Sath", and Juggun Kazmi presenting "Aao Tumhain Star Banaoun".
Needless to say, Shoaib Akhtar – the fastest bowler 'ever' in international Cricket who broke many bones and records in his career – is by far the standout star-addition in the Mobilink Family. Akhtar has majorly endorsed Pepsi till now along with a photo shoot for Nabila's hair styling.
Violer Tutorial
How to subscribe to Voiler
Send "sub" to 7060 or Dial IVR 7060
How to un-subscribe:
Send "unsub" to 7060 or dial IVR 7060 and press 0
Charges
Prepaid
IVR Charges (7060): Rs. 0.20+tax/minute
SMS Charges (7060): Rs. 0.20+tax/SMS
Subscription Charges: Rs. 1+tax/day
Ek Din Star Kay Saath (7061): Rs. 2.99+tax/SMS
Celebrity contest (Gao Meray Saath) (7063): Rs. 2.5+tax/min
Postpaid
IVR Charges (7060): Rs. 0.20+tax/minute
SMS Charges (7060): Rs. 0.20+tax/SMS
Subscription Charges: Free
Ek Din Star Kay Saath (7061): Rs. 2.99+tax/SMS
Celebrity contest (Gao Meray Saath) (7063): Rs. 2.5+tax/min