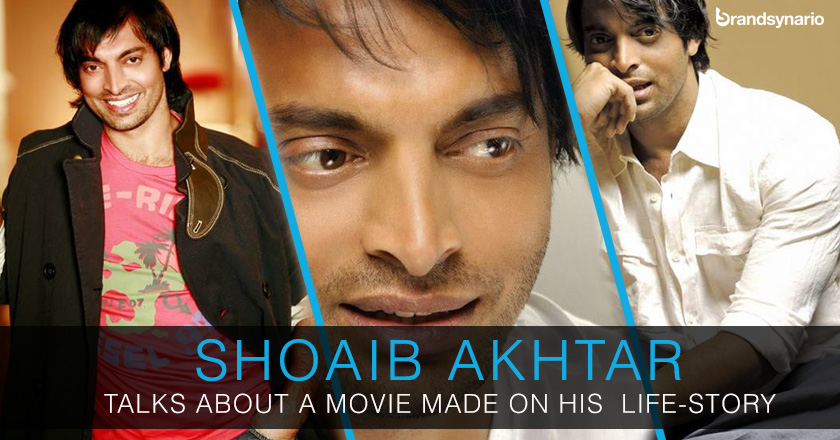 Pakistani Speedstar Shoaib Akhtar has given an interview to Indian media, in which he expresses his willingness to explore the turf beyond the cricket field, specifically Bollywood. The 38 year Pakistani badboy of International cricketer discloses more about his future plans.
When asked about opportunities in Bollywood that came his way
He remarked that although he was approached by a number of Bollywood movie-makers, during his days of Cricket. But since, Cricket was his full time passion that kept him occupied – 'Although I am interested in Bollywood movies, but I don't imagine I can act. But, now that I have retired you never know what life has in store.'
Then he was asked about the Bollywood movie that was supposed to be made on his life-story.
Shoaib Akhtar responded by affirming that a certain someone showed interest in making his biopic, but Akhtar was consumed in cricket then and did not wish to divert his attention. 'Now, it's up to them to make that movie on my life'. Akhtar added that he would be fine with the concept as long as he is kept a part of all the facts told in that movie.
After which Akhtar was asked about his views on hosting a television show in India.
Akhtar said that Sports is his first love and he would welcome any chance that comes his way to contribute. He would be open to become a part of any TV series that focuses on promoting sports, Indian or Pakistani. 'I am a commentator on TV, so I have that experience as well,' he added.
Akhtar was also asked to clarify the rumor that he was supposed to become a part of Salman Khan's show, a commitment that fell through.
Akhtar negated such rumors clarifying that there is no truth in these reports. 'I was never approached by Salman Khan or any officials from that show,' Akhtar went on to remark that he has been open about every controversy in his life and he would have discussed this as well had this been true.
In the end, the Indian interviewer closed the interview by asking Akhtar if he would ever consider marrying an Indian woman.
Akhtar, notorious for his straightforwardness, answered immediately 'Why not? You never know when and where you might find your soul-mate!'