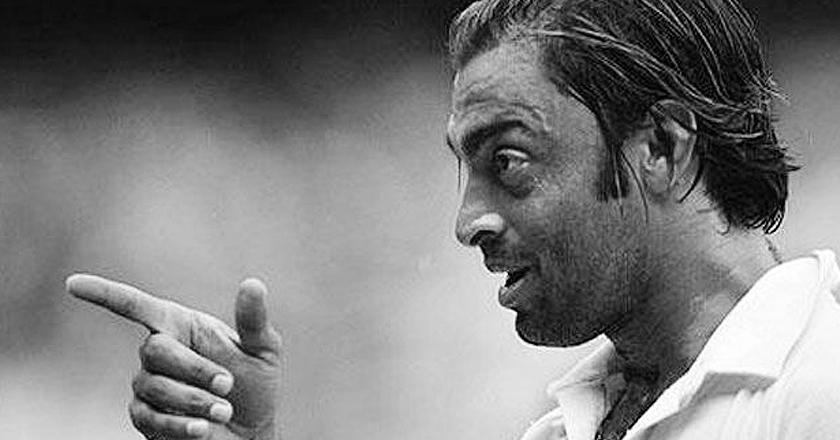 With tensions high and expectations mixed for the ultimate Pakistan-India showdown, our very own Rawalpindi Express is all praises for the rival team's captain, MS Dhoni.
While talking about the World Cup 2015, Shoaib Akhtar discussed how good performance on at least 3 days, during the last two weeks of the competition, can win you the Cup.
Furthermore, he went on to say how Pakistani team is struggling with the lack of good players and the importance of a good captain to lead the team.
During the show 'Cricket Conclave', the retired bowler sang praises for India's captain, MS Dhoni, calling him a smart and intelligent man and marking India as 'lucky' to have him to lead through the competition.
While praising their win in his own last match, World Cup 2011, he said, "I admire the way he (Dhoni) overcomes problems, and on the field he is calm and collected, and means business. He knows how to lead and Indian team were deserving winners of the 2011 World Cup."
Even experienced captain, Inzamam-ul-Haq, had a similar opinion, "I believe having Dhoni as a leader is a big factor for the Indian team. An experienced captain in a big-ticket event is always a plus. Dhoni is one player who has performed for India in pressure situations and scripted innumerable comebacks for the team. Having a leader who knows how to handle pressure makes Dhoni cut above rest."
Further discussing India's win in the previous World cup, Shoaib Akhtar praised other players like Yuvraj Singhand Sehwag too.
While praises for the rival team are all good, the speedster went all out for Dhoni, by taking a dig at "other" captains, saying, "With due respect and not taking any names, I have seen captains, who hide behind the team under pressure. But Dhoni is one guy who would make the team hide behind him when they are under pressure. He is one guy who doesn't know the meaning of fear."
Predictably, the tickets for the Pakistan-India match, to be held on 15th February 2015,  have sold out on the first day of sale.
Do you think Shoaib is favoring India over Pakistan? Share with us in the comments below.