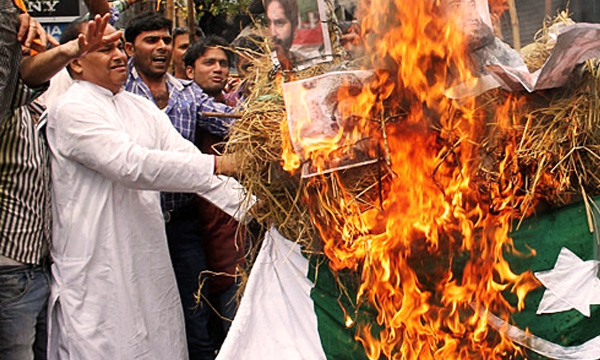 Adding to the growing tension between Pakistan and India, Shiv Sena is reported to have disrupted yet another performance by Pakistani artists across the border.
According to Times of India, four Shiv Sena members had been arrested for disrupting a play by Lahore-based Mass Foundation at the open-air theater in Gurgaon.
Read more: Pakistan vs India Cricket Series: Shiv Sena Protests Against BCCI
The actors from the said Foundation were performing on stage when four men climbed on stage chanting slogans against Pakistan and in favor of India and uprooted a Pakistani flag.
The play, coined Baanjh (infertile) relates the story based on the ongoing dispute between the neighboring countries over the Siachen glacier. The Pakistani director of the play Aamir Nawaz remained unfazed by the event and claimed that while his and the performer's families were scared for them back home, they are returning to their country with lots of love and affection from their neighbors.
Read more: Bollywood Celebrities Criticize Shiv Sena Attacks on Pakistani Artists
On the other hand, MCG Art consultant V D Trikha was happy that the audience supported the Pakistani performers during the protests by Shiv Sena activists.
On account of the recent growing disruptions by extremists, New Delhi government has beefed up security for the upcoming Mass Foundation play to be held today in the city.