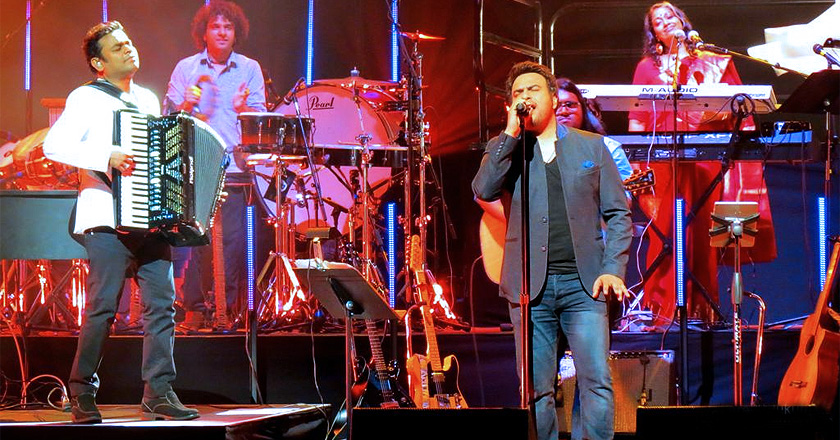 Shiraz Uppal and AR Rahman, are back together for a series of concerts in North America.
Titled 'North America Intimate Tour', the series of concerts, held across US and Canada, features  Pakistan's rock star Shiraz Uppal and India's legendary music maestro, AR Rahman.
The tour, which began on 21st May 2015, consists of a total of 19 concerts, ending on 16th June. And, from the pictures and status updates posted at Uppal's Facebook page indicate it has been a mega hit so far.
Even Bollywood king Shahrukh Khan came out to the show:
Three legends in one pic! Dream come true after watching @arrahman @shirazuppal @iamsrk ! pic.twitter.com/UrB8tJGl7F

— Dhaval Kamdar (@dhavalkamdar4u) May 28, 2015
The Indo-Pak duo started off the tour by performing in New York and then continued to move across the continent to Toronto, New Jersey, Virginia, Chicago and Kansas City, after rehearsal performances in Chennai, India and Nashville, Tennessee. There are still 9 more concerts to go with the people of Dallas, Texas expecting them today. While the stars are enjoying the love they are receiving in all cities of North America, Shiraz Uppal acknowledged the crowd of Virginia as "the best audience so far" in one of his Facebook posts.  
[fb_embed_post href="https://www.facebook.com/uppalshiraz/posts/978318168859270/" width="550″/]
The duo has performed together before as well:    
Apart from his success across Bollywood and collaborations with AR Rahman, Shiraz Uppal is impressing the local audience with his songs for recent Pakistani movies. We have recently heard him and loved his titular track for Pakistan's first ever animated feature film, 3 Bahadur and we are looking forward to listen to his next song, Ballay Ballay, in the Humayun Saeed and Mahira Khan starrer feature film, Bin Roye. Enjoy Shiraz Uppal's title song for 3 Bahadur here:
Here is the Music Video of Sharmeen Obaid's "3 Bahadur" title song… Pakistan's first animated film by #SOCfilms & #ARYfilms Singer & Music: Shiraz UppalIn Cinemas from 22nd May 2015

Posted by Shiraz Uppal on Monday, April 20, 2015