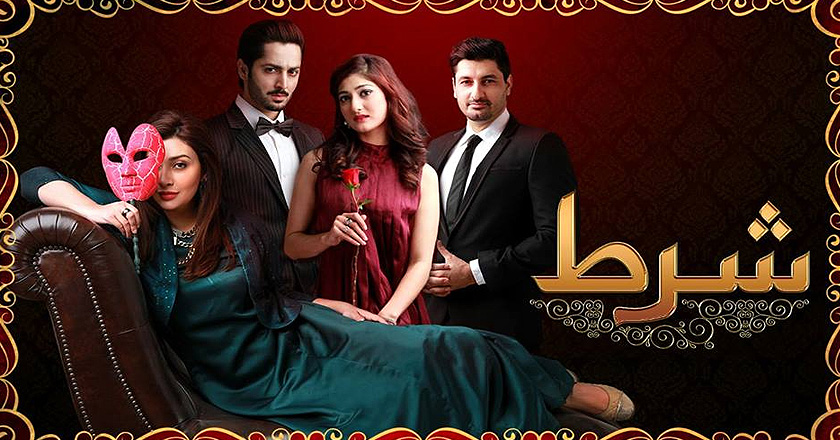 In the past couple of years, Pakistani dramas have moved from the typical saas-bahu stories to philandering husbands/extra martial affairs stories and how damningly so.
Yet another in the long line of such stories is the upcoming drama, 'Shart'. The drama will air every Friday at 9 PM on Urdu1.
While the story, quite obvious from the teasers and OST, seems the same old, the star cast is quite strong. Starring in lead roles are Danish Taimoor – with his recent appearance in Jalaibee, Ayesha Khan – one of Pakistan's most promising actresses, Jibran Syed – with his recent mind blowing performance in Chup Raho and Nida Khan.
The drama revolves around 4 friends, two couples, a challenge to prove all men are philandering, easy to sway husbands and two marriages gone wrong. And from it seems from the OST, the challenge was accepted and unfortunately, accomplished.
While the other three characters have already proven themselves on screen, it seems like this drama might be the calling for Nida Khan. Ayesha Khan, on the other hand, needs to take up new roles; something different than "the other woman" character.
Danish Taimoor and Jibran Syed apparently seem to have done justice to their roles, while, Nadia Hussain is part of the drama as supporting cast.
Enjoy the OST by Aleyah Waqar: