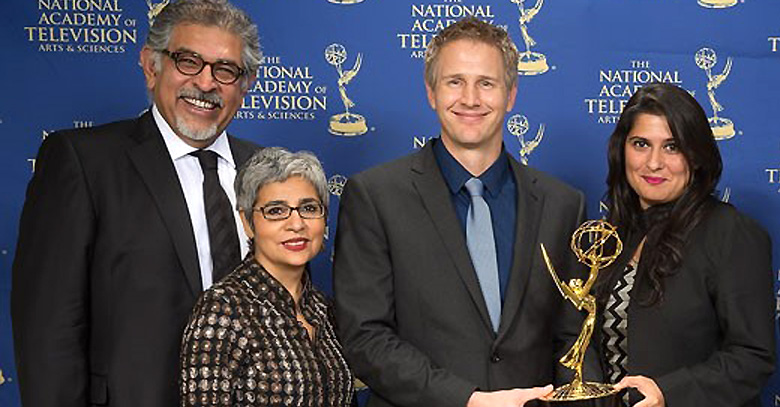 Academy Award winner Pakistani documentary "Saving Face" has been awarded two Emmy awards for Best Documentary and Outstanding Editing: Documentary and Long Form at the 34th Annual News & Documentary Emmy Awards.
Saving Face was nominated for five categories in 34th Emmy Awards, Best Documentary, Outstanding Arts and Culture Programming, Outstanding Research, Outstanding Cinematography: Documentary and Long Form and Outstanding Editing: Documentary and Long Form.
This marks the second Emmy win for the director of Saving Face Sharmeen Obaid Chinoy, who previously received the accolade in the Current Affairs category for the documentary "Children of the Taliban".
The award ceremony for the 34th Annual News & Documentary Emmy Awards was held on Tuesday, October 1 at Time Warner Center in New York City.
Saving Face was represented by its Oscar-winning director Sharmeen Obaid Chinoy, co-producer Daniel Junge along with the cameraman Asad Farooqui. The event was attended by more than 1000 television and news media industry executives.
Upon receiving the award, Sharmeen Chinoi said her achievement was a result of her family and friend's love and compassion.
"…I would also like to thank the team behind Saving Face for their hard work and continued efforts in raising awareness; I hope the film continues to help bring this issue to the forefront and serves to start dialogue and action," she further added.
"The award recognition is an honor for us filmmakers, we hope that the film continues to reach as many people as possible because spreading awareness and starting the right sorts of conversations has always been the core goal behind the film," Daniel Junge remarked after winning the award.
The two Emmy awards add to the existing stack of accolades received by the Pakistani documentary, which include the most esteemed Academy Award (Oscar) for Documentary (short subject), IDA Documentary Award, Juliane-Bartel Award, Germany, Abu Dhabi Film Festival Audience Choice Award, New York Indian Film Festival "Best Documentary Film" and the SAARC Film Award for "Best Documentary".
Saving Face portrays the work of acclaimed British Pakistani plastic surgeon, Dr Mohammad Jawad as he travelled to Pakistan and performed reconstructive surgery on survivors of acid violence.