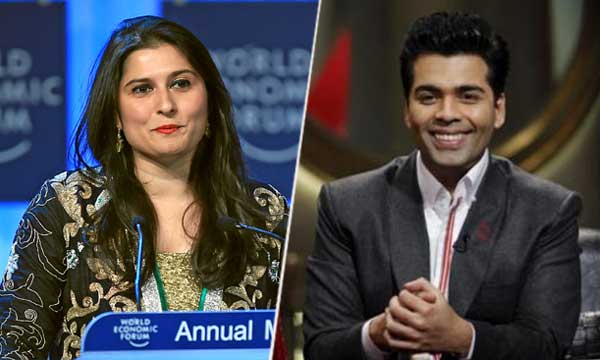 Academy Award Winner and the Co-Chair at 47th World Economic Forum Annual Meeting, Sharmeen Obaid-Chinoy will be featuring in an exclusive one-on-one session with Bollywood director and producer Karan Johar [Head of Dharma Productions, India] titled 'A Conversation with Karan Johar and Sharmeen Obaid-Chinoy' on 18th January 2017 at Davos-Klosters.
The session will be live streamed at 4:30 pm [PST] here.
Sharmeen Obaid Chinoy & Karan Johar's Session at World Economic Forum 2017: Live Stream Timings & Details
Sharmeen will also be featuring in a panel discussion titled "A Positive Narrative for the Global Community" comprising of a diversity of panelists such as Sheryl Sandberg [Chief Operating Officer and Member of the Board, Facebook, USA], Ahmad Sarmast [Founder – Afghanistan National Institute of Music [ANIM]] and Meg Whitman [President and Chief Executive Officer, Hewlett Packard Enterprise, USA]. The panel discussion will be chaired by Zeinab Badawi [Presenter, BBC World News, United Kingdom].
In yesterday's session, Sharmeen discussed the following points:
– Art creates empathy and brings people together – it's a crucial part of creating a more inclusive world.
– The language of hate often trumps the language of inclusion. This is the time to speak up, not to stay quiet & hope.
In addition to this, leading Hollywood Actor George Clooney met Sharmeen Obaid-Chinoy where they discussed her upcoming projects.
She was also spotted with a fellow Academy Award Winner and a Crystal Award 2017 recipient, Forest Whitaker during WEF17.
Sharmeen is the first artist ever to Co-Chair to prestigious forum's annual meeting which is taking place in Davos-Klosters till the 20th of January 2017, under the theme "Responsive and Responsible Leadership".
Established since 1971, The World Economic Forum is committed to improving the state of the world. The World Economic Forum Annual Meeting in Davos-Klosters remains the foremost creative force for engaging the world's top leaders in collaborative activities to shape the global, regional and industry agendas at the beginning of each year.
The World Economic Forum Annual Meeting for 2017 is highlighting five distinct challenges facing the word in 2017: a breakdown in global collaboration; loss of identity; slow economic growth; a crisis in capitalism and preparing for the oncoming Fourth Industrial Revolution. Along with Sharmeen Obaid-Chinoy, taking a principal role in shaping the discussion at the Annual Meeting 2017 are Co-Chairs Brian T. Moynihan of Bank of America, Helle Thorning-Schmidt of Save the Children
Stay tuned to Brandsyanrio for more updates!