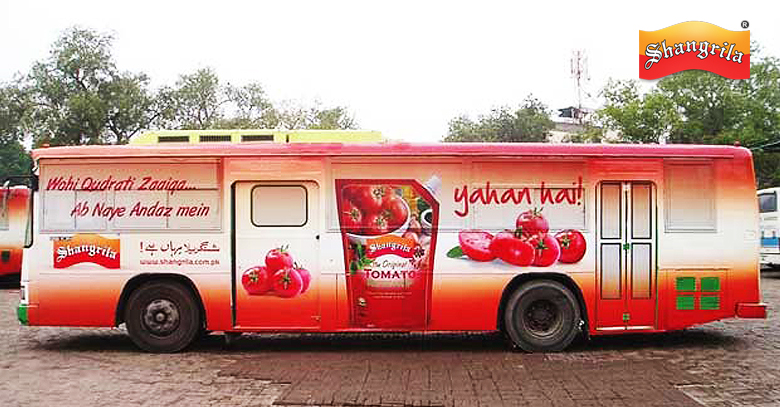 By Ufaq Ashfaque
JULY 1, 2013 – Shangrila Foods have been in the business of making condiments, seasonings and juices that have become popular all over Pakistan.  Their products and the corresponding advertisement have brought attention to the brand.
With a unique variety of spices and products at a budget, Shangrila Foods have managed to succeed a strong name in the industry.
One of the most important ways that Shangrila has managed to develop itself is through outdoor advertising.  Shangrila has been seen doing bus branding, where metro buses are roaming around cities in Pakistan.  The overall strategy, use of bright, catchy colors and memorable taglines give Shangrila the share of mind of the consumer.  In addition to this, billboards also contribute towards the company's strong position in the sauces and condiments industry.
Shangrila's Bus Branding is a unique concept; not any other brand can be seen in competition with what the brand has put together in the country.  Bus branding is one unique way to tap consumer attention and holds immense locking power with creative taglines and products placed on these vehicles.  Shangrila is packed to make further progress and earn the attention of both current and potential customers.