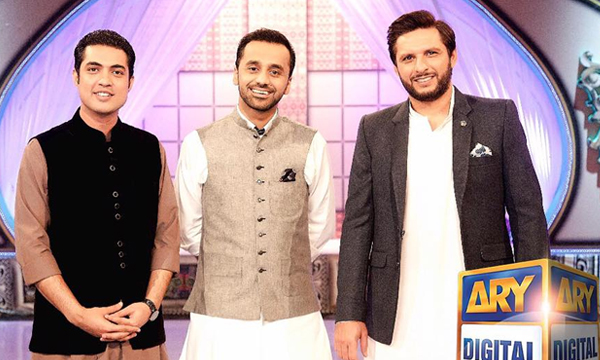 Breaking News: Shan-e-Ramazan 2017 transmission has a new trio of host. Waseem Badami and Iqrar-ul-Hassan will be returning to our screens. But Junaid Jamshed's empty spot has been filled by everyone's beloved Pakistani celebrity. Can you guess who is it?
He is a cricketer, a great humanitarian, flaunts great hair and models too at times!
Yes, we are talking about the all-time favorite, Boom Boom Afridi!
Nobody can ever replace Junaid Jamshed!
But we must admit Afridi is a good choice for a host on the Ramadan transmission!

Continuing with the format, the hosts of Shan-e-Ramazan will be inviting scholars on the show, organize religious segments & conduct game shows!
Kickstarting from the first of Ramadan, Shan-e-Ramazan will be aired at 2:00 am for suhoor and 2:30 pm till maghrib.
Shahid Arfidi's Luxurious Car & Bike Collection [View Pictures]
This will be Afridi's first show as a host of any show, that too in Ramadan. We wish the sports star good luck in his new endeavor.