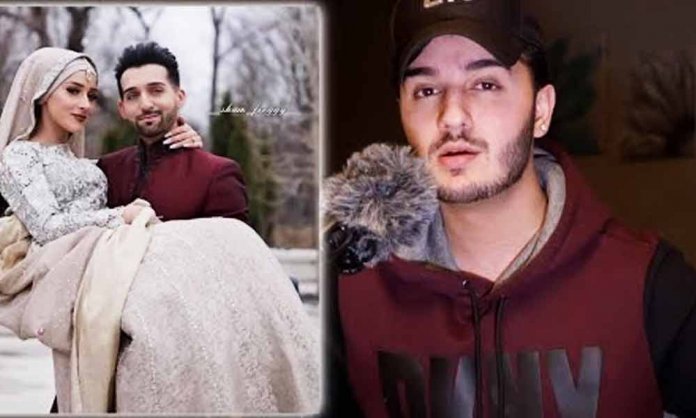 Popular Pakistani-Canadian Youtuber, Sham Idrees's wedding with Froggy took social media by storm this month.
Pictures from their extravagant marriage functions went viral and their fans noticed that their close friends, Zaid Ali and Shahveer were missing from the wedding.
It was apparent that either Sham didn't invite his old buddies on his big day or they did not purposely make an appearance due to personal feuds.
Zaid Ali has made it quite apparent that he no longer agrees with Sham's work ethics.
Taking to Twitter, he slammed Sham & Froggy's latest prank video and condemned its controversial content.
I am fed up of this. How long is this going to go on for? Is this the type of content we have came down to? We have such talented content creators in Pakistan.. yet this is the type of content which is trending. I have no words. pic.twitter.com/1J5BzY8qh2

— Zaid Ali (@Za1d) January 20, 2019
Pakistani YouTubers Slam Sham Idrees & Wife Froggy Over Recent Vlog
However, his dig at Sham received major backlash and a Pakistani comedian, Furqan Shayk accused Zaid Ali of taking out personal grudges in his tweet.
I don't need to say anything, zaid him self knows who he is from inside, sham knows who is he from inside, such cheap thrills are part of their personalities. Zaid is doing nothing but taking personal grudges out at shaam, and zaid is nothing but a fag.

— Furqan Shayk (@FurqanShayk) January 20, 2019
Meanwhile, Shahveer Jafry in one of his podcasts has finally broken silence over not attending Sham & Froggy's wedding.
When asked by a fan if he was invited, the Youtuber made it clear that he was not sent an invitation.
Why didn't you go to Sham's wedding? Also why wasn't Zaid Ali there?

— Ahmed Khan (@ahmedkhan_69) January 18, 2019
He stated:
To be completely honest, no. They didn't invite me to their wedding. This topic is for another day honestly. I don't want to get into it right now. Because then you guys will be sitting here for a couple of hours, which I don't want.
Watch his whole video here!
https://www.youtube.com/watch?v=rUeC9gcTPUA&t=803s
Seems like the war between friends has turned aggressive! Will we ever see them reunite, let's wait and watch.
Also watch:
https://www.youtube.com/watch?v=TpuEjtAhs_4
Stay tuned to Brandsynario for more updates.