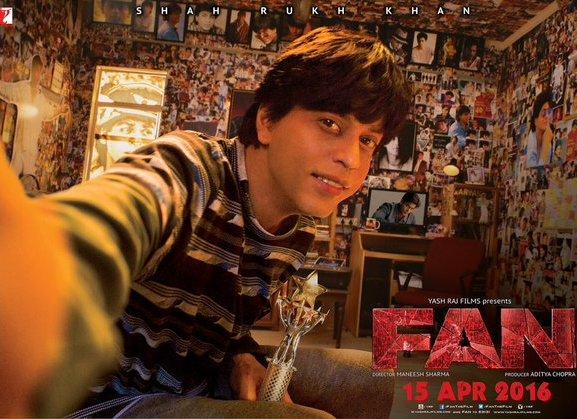 With his glory unparalleled and his devotees uncountable, the supremacy of Bollywood Badshah Shahrukh Khan has remained unchallenged since forever. And now Yash Raj Films is rolling out a movie, based on the glitzy life of the unbeatable movie star and his mighty fandom.
Check out the latest poster of FAN revealing a creepy looking Gaurav, SRK's fan in the movie played by King Khan himself.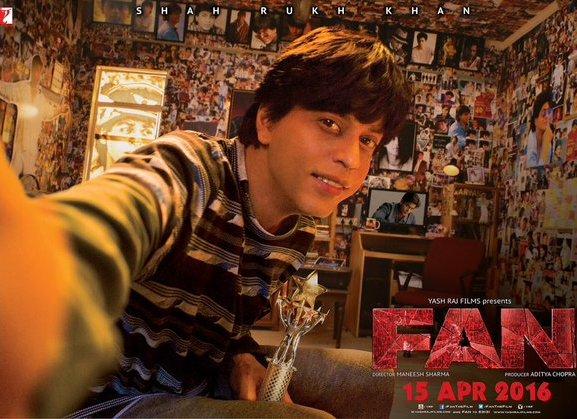 There's no star without a fan, there's no fan without a star. Here comes the SABSE BADA #FAN himself- GAURAV! pic.twitter.com/TK3y1sSSCJ

— FAN (@FanTheFilm) October 27, 2015
Kinda wrap on Fan. Just being ordinary in an extraordinary attempt by this team leaves me a bit hollow. Why all good things end so fast??! — Shah Rukh Khan (@iamsrk) August 7, 2015
That FANtabulous moment all you FANs were waiting for is here! #FanTeaserPoster revealed by the biggest SRK fans. pic.twitter.com/v3lOIZa6NY — FAN (@FanTheFilm) August 4, 2015
Titled "Fan" and directed by Maneesh Sharma, the Khan will be seen playing a double role in the movie: his own superstar self and his biggest look-alike fan, Gaurav.
The legendary Khan himself  announced the release of the teaser on Twitter.
Hey @yrf " @FanTheFilm banaya, bada mazaa aaya" https://t.co/bCyNQfaCHP #FanApril15 @iamsrk

— Shah Rukh Khan (@iamsrk) July 9, 2015
Hope you all enjoy the teaser of Fan

— Shah Rukh Khan (@iamsrk) July 9, 2015
Watch the teaser of Fan here:
[dailymotion id="x2xdf7w"]
A mere minute long, the teaser reveals a hoard of supporters eager to catch a glimpse of King Khan outside the iron gates of his bungalow Mannat and the crowd goes utterly crazy while he does his signature embracing pose. Meanwhile, his imposter fan entertains a mass of people in his Dehli home town.
According to the rumor mill, the movie will have no song or dance number which is quite odd for an emotionally- fueled, SRK film.
Slated to be released in April 2016, the movie's first look have excited SRK's fans and took to Twitter, making #FanApril15 the number one Twitter trend in India.
This is the best teaser which I've ever Seen after DON 2 #FanApril15 — Sabse Bada FAN (@McCullumSRK) July 9, 2015
The fact that even a 1 minute teaser, less than 10 secs of #SRK makes fans go crazy is why @FanTheFilm will be what it is! #FANApril15 🙂

— Parampara (@cinemawaali) July 9, 2015
#FanApril15 Trending at No 1 for the last 5 hours…SRK and YRF broke the internet..All time deadly combo !! #Kingkhan #FanApril15 — Karan! (@10hottkaran) July 9, 2015
Fan's teaser looks very different & Interesting. That typical SRK pose was the highlight. #FanApril15

— νιяαт ρяєм кσнℓι❤ (@ViratMyLife) July 9, 2015
The biggest surprise of the year? The first teaser of Shah Rukh Khan's FAN. Watch and RT if you liked it! http://t.co/vKlyfLZfJR #FanApril15 — AMAN !! (@amanaggar) July 9, 2015
Bollywood's last reigning monarch @iamsrk proud to be your fan. #FanApril15

— Brücey (@TheSRKdisciple) July 9, 2015
SalWomaics tried hard to trend something related to Berangi Bhabhijaan, but that didn't happened LOOOL #FanApril15 — CRIMINAL KHAN (@BeingVirginKhan) July 9, 2015
Acting? Expressions? Body language? Behavior of a fan? He's going to show them what ACTING is. #FanApril15 #RealisticEver — AkaSh RaThOd (@iAkashRathod) July 9, 2015
Maneesh Sharma did awesome job by Showing real FANs Real Love and Real Craze in FAN Teaser #FanApril15

— ManՏօօɾ Ƙհɑղ (@IamMansoorKhan) July 9, 2015
Along with Raees and Dilwale, Fan has now joined the list of Shahrukh's much awaited movies.
What do you think of the first look of SRK's "Fan"? Share your views in the comments below.