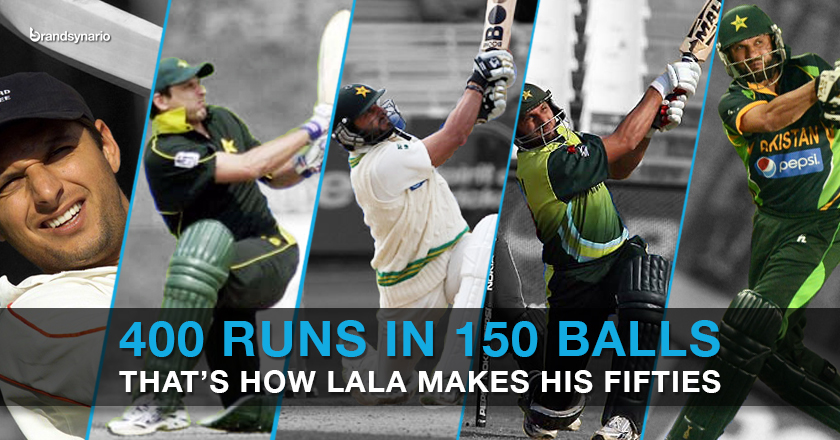 A 16 year old Pakistani boy came out to bat at number three on a warm tedious day against Kenya back in 1996.
Who could have thought that the game will never be the same, at least for Pakistan; after that day – after that particular knock from that sixteen year old.
The boy later made his name around the world as Boom Boom Afridi.
Afridi stunned the Cricket world with a spectacular demolition demonstration with the bat that no man could have even imagined before him. 18 years ago, his first day on the international field was perhaps the last day when Pakistanis expected him to turn around the game for them, be it with the bat or ball or even in the field.
Afridi's debuting century in International Cricket took merely 37 balls and included a toll of 11 sky-high sixes, tis carving his first two world records and the Pakistanis boarded the roller-coaster ride known as Shahid Khan Afridi. 
Recently, his twin cameos in Asia Cup 2014, against India on March 2nd and Bangladesh on March 4th, reminded the world what it's like being an Afridi-head or Afridian. Afridi doesn't promise that it would work out every time or that it would be pretty, but he does promise that whenever his bat does start middling that cricket ball, he will make the world stand in awe.
But known for his brute force, fastest century (A record now broken by CJ Anderson) and highest striking rate than anyone in One-Day-International, Shahid Afridi also holds a rather peculiar world record.
FASTEST HALF-CENTURIES
We all know that Afridi's half century against the adorable Bangladeshis in Asia Cup 2014 that came in just 18 balls, and snatched a historic victory from their jaws, is also the world's second fastest.
But did you know that it's the third time Afridi has reached a half-century on 18 balls? Also, that he has made one more International half century in 19 balls, two half centuries in 20 balls, one more on 21 balls and finally a half century against Sri Lanka in 2007 took him 22 balls.
Shahid Afridi Devoured Bangladesh in Asia Cup 2014 to Make 'one' of His Fastest Half Centuries, and the world's
Second Fastest Half Century. Final Score 59 Runs in 25 Balls:
Shahid Afridi's Another Fastest 50 in 18 balls Against Netherlands in 2002
Shahid Afridi's Second Fastest 50 in 19 balls Against New Zealand
Shahid Afridi's Tenth Fastest Fifty in 20 balls. Final Score 77 in 34 Balls
That means, Afridi's name is written 
Eight times
 in ICC official record of 
'Fastest Half-Centuries by a Batsman'
. This in turn also means that 
Afridi's 8 fastest half centuries have consumed only 156 balls; i-e More than 400 runs scored in 156 balls (26 overs)
.
FASTEST CENTURIES
Afridi is the only man whose name repeats three time in ICC list of 'Fastest Century by a batsman', with;
World's Second fastest Century – Afridi 102 off 37 balls
World's Third fastest Century – 102 on 45 balls (Afridi vs India)
Also; The World's Tenth fastest Century – (total) 124 on 53 balls and also,
Another subtle Century (109) that took 68 balls, and is still the World's 30th fastest.
That's 437 runs scored in less than 203 balls. That's four centuries with an total average strike rate of more than 200.