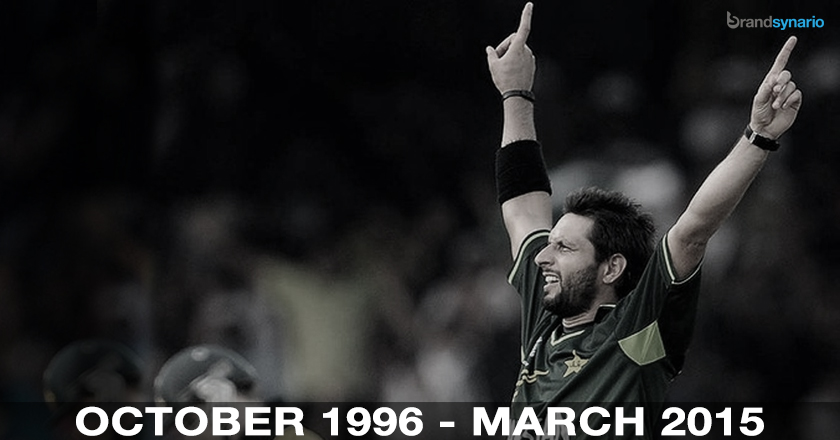 Shahid "Boom Boom" Afridi, Pakistan's favorite star and all-rounder cricketer has very recently announced that he intends to retire from ODI Cricket matches after the 2015 ICC World Cup which will be held during February 14 to March 29 in Australia and New Zealand.
This decision, announced on Sunday, caused confusion and disappointment amongst fans, however according to the player himself the team management and Pakistan Cricket Board (PCB) were already aware of this decision.
The power-player will however continue to play in T20 cricket for now. He even hopes to win the 2016 T20 World Cup which will be held in India.
Back in 2010, Afridi had retired from Test Cricket whilst playing against Australia during a series in England. Later in November 2011, he became the only Cricketer who was able to score a half century in an ODI.
The Cricketer informed fans that, "My journey has seen many ups and downs but I am feeling satisfied that I am leaving on my own terms", at the same time, he also informed reporters that he is happy to go out on a high rather than being requested to go.
He seemed content when he said, "I am the first Pakistani player to be able to announce his retirement properly. I always wanted to do this having seen the problems faced by other bigger players in the past."
This is what the Cricketing legend has tweeted regarding his earlier-than-expected retirement from ODI cricket.
Thank you so much for all your support and prayers throughout my ODI career… it means alot to me.. love you all !??

— Shahid Afridi (@SAfridiOfficial) December 21, 2014
Shahid Afridi, famous for his daring, guts and glory, has a very die-hard fan following in Pakistan. Internationally he has acclaimed a lot of fame as a bold and fearless cricketer, both in terms of batting and bowling.