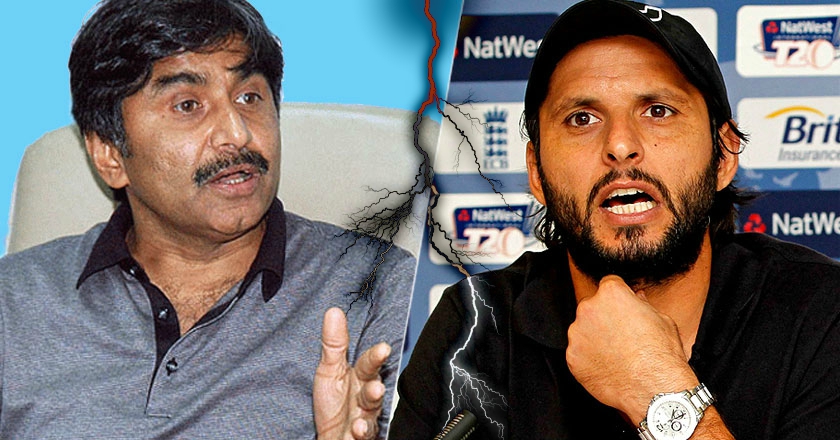 Shahid Afridi has the charisma to stay in the headlines whether he is playing on the ground or talking on TV. Recently, the 36-year-old former T20 skipper found himself in a controversy with one of the legends in Pakistani cricket, Javed Miandad.
This controversy started when Javed Miandad slammed Afridi's wish of a farewell match by saying that the cricketer is the kind of man who is 'always after money'. To this, Afridi added, "Money has always been an issue with Miandad. That is the difference him and Imran Khan," during the launch of 'Cricket Corner' by Daily Express' Sports Editor Saleem Khaliq.
Afridi passed this statement while he was addressing a query while quoting Miandad, asking about his views about the statement claiming 'that Afridi wants a farewell match only for the money'. This all happened after Boom Boom made a request to play a farewell match. To this, Miandad replied that Lala is no longer a superstar.
"Afridi is no longer in demand, which is why he his making such remarks. As far as the difference between me and Imran Khan is concerned, fans know more about it and they are the better judge."
"Honestly, I am not desperate to get my farewell match. The love I have gotten from fans over the years are the biggest earnings in my entire career," Afridi said while assuring his fans that he will continue to play T20 leagues in the near future.
Shahid Afridi & Javed Miandad Sunday Brawl
"I challenge Afridi to swear upon his daughter and say that he didn't sell Pakistan's matches," Miandad said. On the other hand, sources close to Lala have confirmed that he has been in talks about the matter with his legal team. He has also decided to issue Miandad a legal notice.
"Afridi and his lawyers, after thoroughly watching clips of Miandad's interview, have agreed to send a legal notice to Miandad," the source claimed. "The notice will be sent on Thursday as offices will remain closed until Wednesday on account of 9th and 10th Muharram," they added.
https://youtu.be/QCYeTDPxAF0
Afridi Regrets Statement
The former skipper soon started to regret his comment about Miandad, however, he also added that 'Miandad was making personal attacks',which is why he had to react to the situation. He even shared 3 tweets with his followers, sharing his feelings.
Javed Miandad is legend of cricket but he used very harsh words on TV for long time. He made personal attack on me for no reason1/2

— Shahid Afridi (@SAfridiOfficial) October 9, 2016
I tolerated for long time but every person has a limit, sad that Javed Miandad was making personal attacks for long time2/2

— Shahid Afridi (@SAfridiOfficial) October 9, 2016
I regret what I said to a senior but of course I had to eventually react to his behaviour.

— Shahid Afridi (@SAfridiOfficial) October 9, 2016
Stay tuned to Brandsynario for more updates.