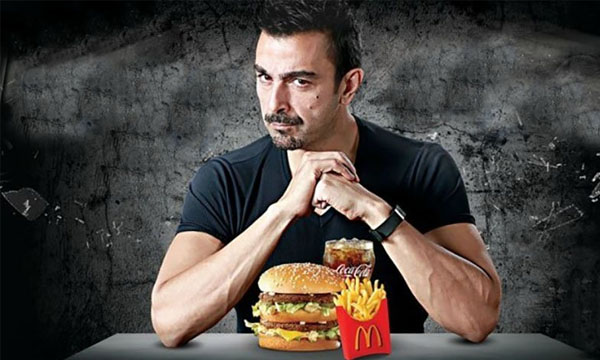 The legendary actor Shaan Shahid is one of the main reasons why Pakistani cinema has made such a glorious comeback. All of his action packed movies have gone on to receive high praises and made fans out of the staunchest critics.
After coming across some clips of Shaan, once more donning on the role of an action hero, defeating what looks like a sinister bad guy, we wondered what new action packed movie could this be from. The fighting scene clearly had us in awe and we couldn't wait to see more of it and find out who walked out at the end as the winner (though of course it would be Shaan).
And now the wait is over!
All was revealed with  the launch of the latest campaign by McDonald's Pakistan. The bad guy commits the most heinous crime there is, steal the scrumptious McDonald's Meal belonging to someone else. And that someone happens to be Shaan Shahid who arrives to take back what is rightfully is.
What follows is a full on fight sequence that leads to the defeat of the food burglar and an unmatched win for Shaan who then goes on to enjoy his delicious McDonald's meal.
Shaan has been the perfect choice for this campaign.
Check out the complete video below.
Stay tuned for more updates.