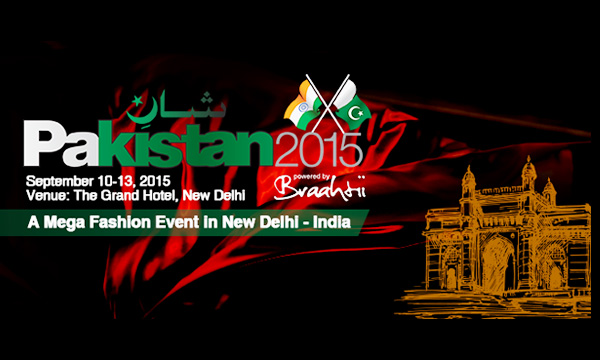 The 3-day indo-Pak cultural collaboration 'Shaan-e-Pakistan', is set to host Pakistani Designers/Brand and Indian Designers ensembles ranging from bridals, prêt, luxe- prêt to high-street and lawn in India. The event will take place from 10th September to 12th September 2015.
Pakistani designers participating at the platform include Ali Xeeshan, Asifa and Nabeel, Braahtii By Huma Nassr, House of Arsalan Iqbal, House of Umar Sayeed, HSY, Mona Imran, Nadia Hussain, Rana Noman, Rema Qureshi, Rungrez, Sahar Atif, Saira Shakira, Zainab Chottani. From the other side of the border, Indian designers Anju Modi, Arshi Jamal, Charu Parasher, Raakesh Agarwal, Leena Taneja &, Poonam Bhagat will be taking part in Shaan-e-Pakistan.
The three-day Fashion and Lifestyle event will commence on Thursday 10th September 2015 with a gala night 'Ek Shaam Pakistan ke Naam' where qawwali legend Amjad Sabri, candidly known as one of the Roving Ambassadors for Pakistan, will take to the stage and enthrall audiences with his soulful baritone voice in a fusion of Indo-Pak cultural sangeet. The event will also entail food and flavours of India and Pakistan were celebrated Chef Gulzar Hussain from Pakistan and Osama Jalali from India will take guests' palate through a Sub-continental cultural journey.
SHAAN-E-PAKISTAN is currently being supported by Pakistan High Commission, New Delhi and Federation of Indian Export Organisations [FIEO] along with Co-hosts Sangeeta Das from Equations India. The event's official media partners are HUM TV, digital partners Movieshoovy and PR is managed by Le Communiqué [India] & Lotus PR [Pakistan] with backstage managed by Production 021 and Choreography by Imran Kureishi.
Read More: Shaan-e-Pakistan Designer Lineup To Be Revealed on August 5th