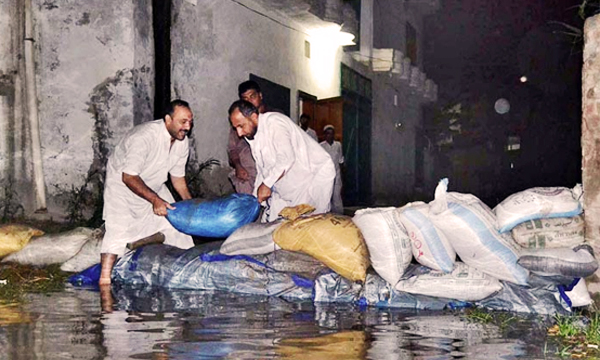 Rescuers were battling Monday to reach thousands of people stranded by floods and landslides in Pakistan's northwest and parts of Kashmir, officials said, as the death toll rose to 55.
Disaster management officials in Khyber Pakhtunkhwa province, where 47 people have died since the downpour began Saturday night, said they were consulting with the military about a rescue operation there amid fears the death toll could still climb.
"We are trying to arrange a helicopter to reach the people stuck under debris of their houses," Latifur Rehman, a spokesman for the Provincial Disaster Management Authority, told AFP.
The authority said it had received reports of damage to dozens of houses but had failed to reach affected people in three districts of the northwestern province.
"We need to get bodies and the injured out from under the rubble and provide food and tents to the survivors," Rehman said, adding that four truckloads of supplies had been sent to affected districts.
"All roads leading to villages and other areas have been blocked… There is no movement at all," Khalid Khan, a courier company owner in Shangla district of Khyber Pakhtunkhwa, told AFP, adding that local hospitals lack the facilities to deal with the injured.
In Pakistan-administered Kashmir's Neelum Valley, officials said thousands were stranded by landslides.
At least eight people including five children died there when two houses were buried in a landslide caused by the rains, local official Abdul Hameed Kiyani told AFP.
The Mainly dry weather was expected in most parts of Pakistan from Monday, according to the meteorological department's website, though thunderstorms are still predicted for Kashmir.
Poorly-built homes across the country, particularly in rural areas, are prone to collapse during the annual spring rains, which are often heavy.
Severe weather hits Pakistan annually, with hundreds killed and huge tracts of prime farmland destroyed in recent years in a blow to the heavily agrarian economy.
During the rainy season last summer, torrential downpours, and flooding killed 81 people and affected almost 300,000 across the country and in Kashmir.
Stay tuned to Brandsynario for more updates.