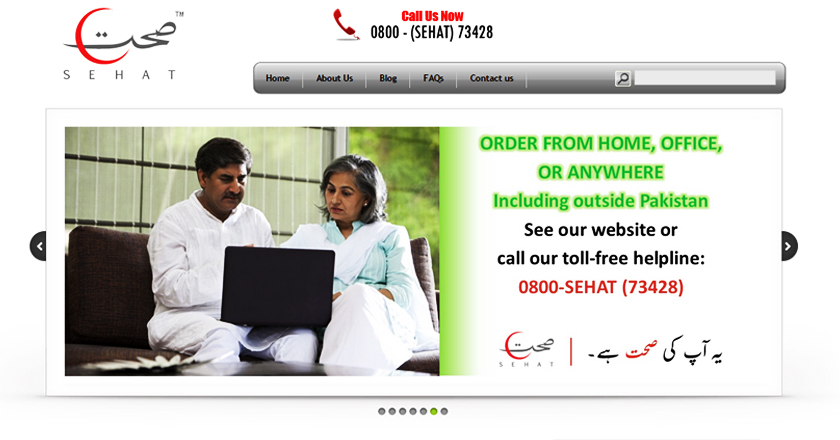 One of the fastest growing ecommerce markets, Pakistan is climbing up the virtual shopping ladder fast. The latest sector to make its way is pharmaceutical, courtesy Sehat.com.pk
A project of Apothecare (Pvt) Ltd, Sehat.com.pk claims to be Pakistan's Premier Online Pharmacy, delivering medicines nationwide with flexible payment methods being offered to the customer – including internet banking and credit card payment.
Sehat.com offers an easy-to-use web interface and convenience to consumers as a one-shop online pharmaceutical solution. The toll-free (free from landline) number for the website is 0800 73428. The project itself comes under Apothecare Private Limited.
Sehat.com has assigned a team of pharmacists reviewing prescriptions of customers for the purpose of purchase of prescription drugs. That way, the proper amount and strength of prescription drugs can be dispatched to each customer accordingly.
For those looking to purchase a huge quantity of drugs in advance, Sehat offers store credit for customers through prepayment.
 For example, depositing Rs. 20,000 in your Sehat account beforehand enables you to purchase Rs. 20,000 worth of items later on, with immediate dispatch. Prescription Medicine users can look forward to using Sehat through the Order Scheduling feature – you can place multiple orders at one time and schedule them apart by the day, week, month, and even the year.
Nadir Mumtaz, CEO of Apothecare Private Limited commented on the benefits offered by these features by stating that, "We have done extensive experiments throughout the year to test the specialized packaging that we developed to transport temperature sensitive items in the correct temperature range. Over 400 experimented test runs took place to cater for temperature changes during the year throughout the country."
In a country like Pakistan, where internet usage has reached 30 million user base, the concept of an online pharmacy is not just lucrative but productive for the masses too.