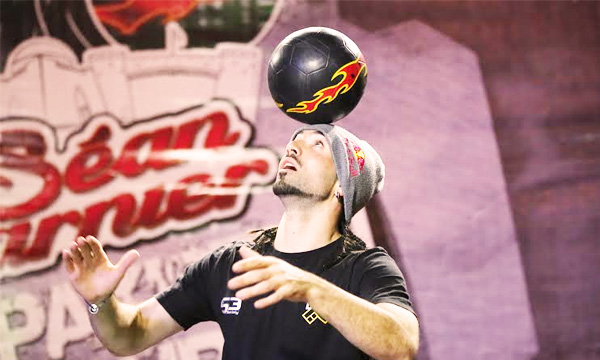 Garnier continues to captivate audiences in Pakistan. The Freestyle linchpin Sean Garnier continues to dazzle audiences across Pakistan with his breath-taking skills and trickery that have rightfully put him at the top of the world in his sport.
After warming the hearts of the Lahorities, Garnier spent two action packed days in Karachi, his stay in the city culminated with a thoroughly absorbing performance at the PC hotel on Sunday night. The special presentation for the media and leading bloggers of the city attracted hundreds at the venue. As always Garnier stole the show with a stellar show that kept the spectators hooked throughout the half an hour long presentation.
Garnier was an instant hit; he started by greeting the audience in Urdu, warming the hearts of all who had converged to see him perform. The superstar was in the groove immediately and unfurled his series of Freestyling tricks that have made him a recognised face across the world. In the opening session that lasted around 10 minutes, Garnier was full of energy and enthusiasm as he flexed his body, displaying incredible ball control.
The ball as always seemed to be obeying the commands of its master, whether on Garnier's foot, knee, shoulder or on fingers, the audience was left spellbound by his magic.
Later in the second half of the show, Garnier invited challengers on the floor. All participants were allowed to play as long as they didn't allow the ball to pass through their legs, against Garnier it always seemed that he was the one who decided when a challenge was going to end. But Garnier was full of grace, respect and adulation for his challengers.
Read more: Special Olympics 2015: 55 Pakistani Athletes Selected to Participate 
Some leading sports journalists were also invited on the floor but unfortunately failed to match the skills of the world beater.
Garnier invited at least a dozen members of the audiences including a female sports journalist during his presentation. Not one of the challengers succeeded in nutmegging the super star— passing the ball through his legs. After all one can't expect mere enthusiasts to challenge the best in the business, of course the whole exercise was aimed at promoting freestyle amid some light hearted moments that perfectly captured the essence of a balmy Karachi evening.
At the end of the session, Garnier spoke to the media and expressed his gratitude at their phenomenal response to his visit. Garnier was overwhelmed by the response he received in Karachi and time and again declared the crowds present one of the best he has ever entertained.The Frenchman is now set to perform across various Islamabad universities in his two day stay in the capital city, the last stop on his Pakistan tour.
Read more: Pakistan Wins Gold in Special Olympics 2015, USA
Stay tuned to Brandsynario for more updates!