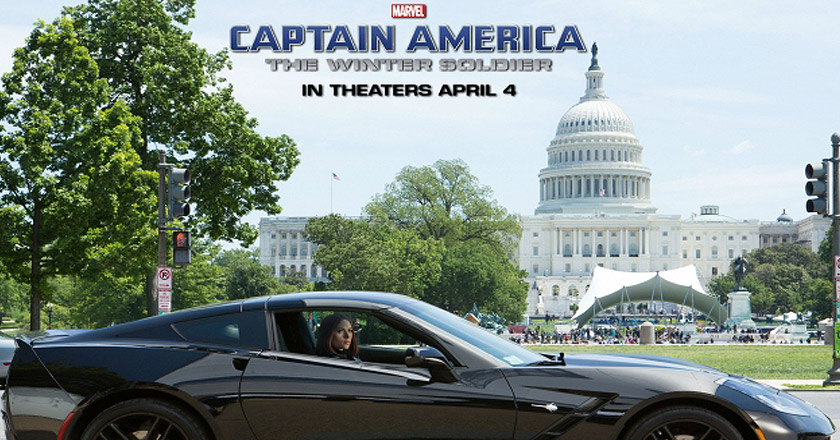 Captain America, the winter soldier is not just another awesome sequel of Marvel's Captain America but a brand packed Marvel production where GM is the major brand sponsor.
Drving the new sexy Corvette Stingray, Scarlett Johansson as Mr. Johansson's Black Widow, makes her way on to the screen to pick Steve Rogers  aka Captain America from near the U.S Capitol.
In a statement Mr. Tihanyi explained that the character of the Black Widow in the movie is "technologically very savvy — and a beautiful-looking character. That all exemplifies what a Corvette is about; High-tech, Innovative and performance-driven in a beautiful package."
The movie was launched on 4th April 2014 and immediately made it to the top of the charts.
GM's purpose of starring Scarlett Johansson with the new corvette was to create a strong brand (like marriage) in the consumer's minds between the car and the classy cum sexy celebrity.
In another scenario, Captain America and the Black Widow halts up at an abandoned military base in a beautiful Chevrolet Silverado.
While in another pursuit scene Anthony Mackie's character "the Falcon" is pursued by films villain in a brand new Impala Sedan.
The movie's ultimate chase scene features Nick Furry riding an almost indestructible well armored Chevrolet Tahoe.  Although so many product placements might as well bore the audience, giving the movie itself a not good acclamation, but not when it comes to the combination of the two oldest and most reputed brands relationship, i.e. of Marvel and GM.
As Mr. Tihanyi explained about GM's product placements in the movie, he said "When you see the scene with Nick Fury and the Tahoe, essentially the Tahoe saves his life. It performs in this unbelievably heroic manner," moreover he added "The vehicle is in there for an extended scene and you obviously see the branding. But in that particular sequence, it's very true and relevant to the story-telling. So that's really what I look for, more than anything else."
The brand placement doesn't stop with GM but continues with many more product placements that can be easily spotted in the movie, whether paid or unpaid? This is a question that remains to be answered.
In a scene when Captain America wears his armor, the villain is spotted wearing Nike.
Not only this, Apple seems to be relying on the brand image of its late founder Steve Jobs, as in one of the scenes Captain America notes down Jobs name as one of the most important cultural figures from the last 50 years, in his personal note book.