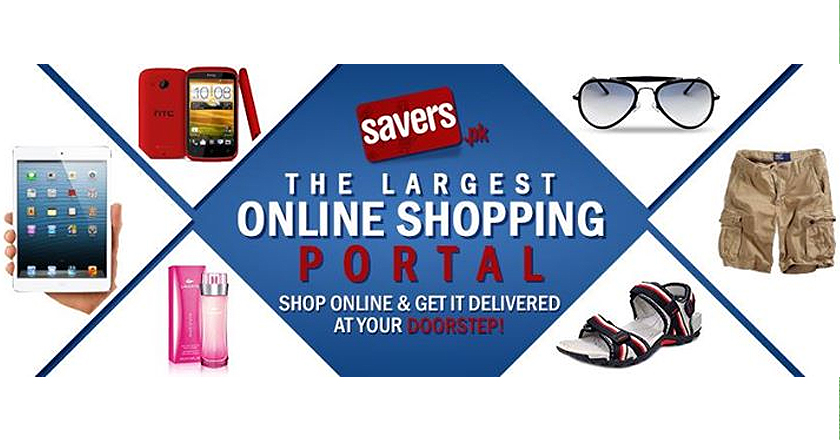 From long waiting lines and tiring trips to just a few clicks on your screen; from one shop option to a whole range of wardrobe in one glance – the shopping experience in Pakistan, as a whole, has revolutionized a lot with e-shopping. Industry experts claimed the estimated market size of e-commerce in Pakistan is between $25-30 million a year, which will increase at a rate of 18.3% in the coming years. 
And just like conventional shops, the competition in e-shopping is cut-throat, to be the best; an online store has to offer a lot more than just products.
One Store in particular has found new ways to interact with customers round the clock with not just a website but through Live Chats, Calls, Emails, Web Feeds and Social Media Networking pages to find what they really want.
Savers.pk – a convenience online store that offers over 10,000 Products including Mobile Phones, Tablet PCs, Men & Women Apparels, Watches, Cosmetics, Footwear, Home Appliances and Lifestyle Accessories. 
What more! You can even get a Brand New working Air Conditioner delivered at your Doorstep!
And it doesn't end here; the new store also offers Cakes, Flowers, Chocolates, Perfumes, Jewelry and even Mithai (sweets) to celebrate special occasions with your loved ones.
Here are some points that make Savers.pk the best online shopping hub than any other online shopping store in Pakistan:
A Convenient Pocket Saver
At Saver.pk, the price itself encourages the customers to click on the buy option.
With its New Deal Section that features Special discounted offers for products and Free Delivery to all the Cities in Pakistan, this is certainly a pocket saver and convenient to receive your favorite products delivered right at your doorstep.
Real-Time Shopping Assistance – Day & Night
Offering 24/7 friendly and supportive Customer Service, Savers.pk ensures real-time assistance and helps in making the shopping experience even better.
Easy Return Policy
To make things even more irresistible, returns are made easier than ever; all you have to do is just contact their Customer Support to not just get an answer but complete customer Satisfaction.
Ease of Payment
At Savers.pk, customers have the facility to pay through different modes like COD (Cash on Delivery), Easy Paisa and Bank Transfer.
In Pakistan, the scope of online shopping is still restricted to clothing and electronics. Myriads of web stores offer fashion products but Savers.pk distinguishes itself as a lifestyle portal that offers regular customers a chance to create more personalized shopping experience for all type of products.