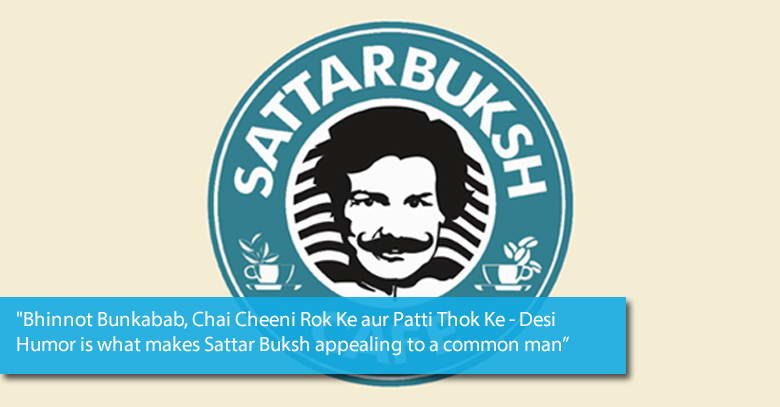 By Ufaq Ashfaque
We have witnessed the buzz surrounding Sattar Buksh, a rather unique addition, considering its sharp similarity to the global coffee chain Starbucks.  Recently many people couldn't resist the temptation and flocked towards Sattar Buksh even before it was officially launched.
The sudden arrival did generate a lot of hype and word of mouth, which is good for the brand, but on the down side, they weren't prepared for the party.
Hence, the views regarding this desi pick are quite varied. The way they have packaged their menu, with unique names, has definitely grabbed the attention of many Karachi-ites. Now, if the taste matches the uniqueness is another story.
Names such as Bhinnot Bun Kabab, Chai Cheeni Rok Ke aur Patti Thok Ke – Desi Humor is what makes Sattar Buksh appealing to a common man.  Also, their fusion tea – flavored, water-based tea – is a must try.
Going from their catchy brand name to their unique names on the menu, Sattar Buksh is promoting itself creatively. However, views on the menu are different from what was anticipated. Below is the list of the items and their prices:
1. Bhinnot Bun Kabab – Rs. 255/=
2. Bara Gosht in Mushroom Burger – Rs. 495/=
3. Damdaar Bun Kabab – Rs. 295/=
4. Peshawari Chapal Bun Kabab – Rs. 325/=
5. Chai (Cheeni Rok, Patti Thok ke) – Rs.155/=
Some of the more expensive delicacies that are on the menu include:
1. Sattar Buksh Samundari – Rs. 725/=
2. Sheesha (Hookah) – Rs. 895/=
3. Cheesecake – Rs. 600/=, and so on.
Some say a Bhinnot Bun Kabab is expensive whereas a Bun Kabab is basically a cheaper version of the standard 'burger' offered at a standard fast food restaurant.  Even though people of Karachi are a little skeptical about the pricing, they are still looking forward for to the formal launch of the café.
However, their hookah, or sheesha as the people of Karachi refer to it, is something that has disappointed the few who have got the chance to sample it. It is a little too pricy and also the taste of it isn't worth it, according to the word.
With mixed reviews coming from different directions, it is rather difficult to judge this food spot.  A comprehensive review can only be done after Sattar Buksh's official launch.