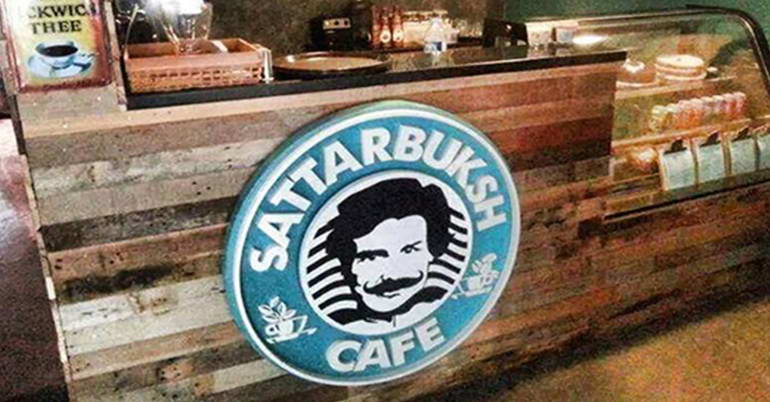 By Ufaq Ashfaque
We have been hearing about our very own desi Sattar Buksh on social media with its obvious resemblance to multinational Coffee Company, Starbucks.
Located in the Clifton just across Edhi's Child homes, they are located in a small cottage-like place creating a homely atmosphere and promise to serve food to satisfy our taste buds.
SATTAR BUKSH – AN OVERVIEW
SattarBuksh has created quite a spur amongst the audience and is looking to give people a taste of both the worlds; a place where people can have their coffee with a 'paratha' and with some Nutella on the side.
Their brand promises to satisfy you 'if you're looking for a satisfying cup of chai (tea), some fried andas (eggs) with bran bread, an exotic Panini or just some inspiration for a project you're working on, we're coming to your hood'.
The place has been decorated with pop art sofas and has an overall eclectic feel. A courtyard has been dedicated to hookah smokers, so one can enjoy in the open air and also save non-sheesha people from suffocation.
The entrees are rather catchy – their 'besharam – topless burger' has been a particular favorite, along with their tea blends. Their Nutella wraps is a people's favorite, giving you the best of both worlds.
Sattar Buksh emerged as a brand on digital media sometime during the mid of 2012. Due to their active promotion on social media and catchy one-liners such as, "This web site is under construction…kasam se", caught everyone's attention. It is arguably the most anticipated café launch in Karachi.
WHY THE SOFT LAUNCH?
But Sattar Buksh's soft launch on September 10 was bit of an anti-climax. One wonders why they didn't make use of all the hype generated by their social media antics and their not-so-unique brand name.
Sattar Buksh came out in the open on September 11, and clarified that an official launch is on its way and the sudden arrival of people at their doorstep was as much shocking for them as it is for us.
It all started with a post on Karachi Food Diaries which went viral and a large number gate-crashed (literally) at Sattar Buksh according to the following tweet by Khizra who tweets as KhizM 6h
"Me to friend(@SattarBuksh):"How was the turn out last night?" Him:"darvazay tor diye logon ne" Me:"You're kidding" Him:"Nope"
IS IT A STARBUCKS WANNABE?
Yes, we think so but which café isn't? Their logo and brand name did resemble the international chain but the desi-ness of Sattar Buksh cannot be ignored so it is up to you to decide.
Here is what Sattar Buksh has to say in its favor on its Facebook page:
"We have nothing to do with any foreign franchise nor do we want to categories ourselves as mere coffee experts. We're 'Jutts of all trades' and we cater to everyone!"
LOGO CONTROVERSY
The above disclaimer came a short while after Starbucks took notice and sent a legal notice to our very own Sattar Buksh, asking them to change their logo.
The latter obliged as we peace-loving nation always do when it comes to US-intervention. But the café didn't forget to add their usual charm to this incident and reported the change in logo as follows:
"BREAKING NEWS! Another unwanted case of US intervention. When will this oppression end? Is nothing sacred? Can't we just be another business in a third world country that no one notices?
Apparently not.
It was all fun and games till the big boys *cough*Starbucks*cough* noticed.
And so we present to you…our new logo."
TO GO OR NOT TO GO?
Definitely a go! Sattar Buksh can be considered a somewhat desi version of the international coffee chain Starbucks as far as the brand name is concerned otherwise it has developed an identity of its own.
Since, Starbucks took notice of this little café in Karachi; its popularity has spread across borders.  Here's what an Indian citizen had to say via Twitter:
"Since even mighty Starbucks has taken notice; Will have to plan a trip 'sarhad ke uss par', just to get a taste of coffee from @SattarBuksh"
All in all, Sattar Buksh seems a good catch.  The place has had people bet on, with high expectations on both signals and the fact that they are captivating the attention of people not only around the city but also round the world, is a sign that it would do well.