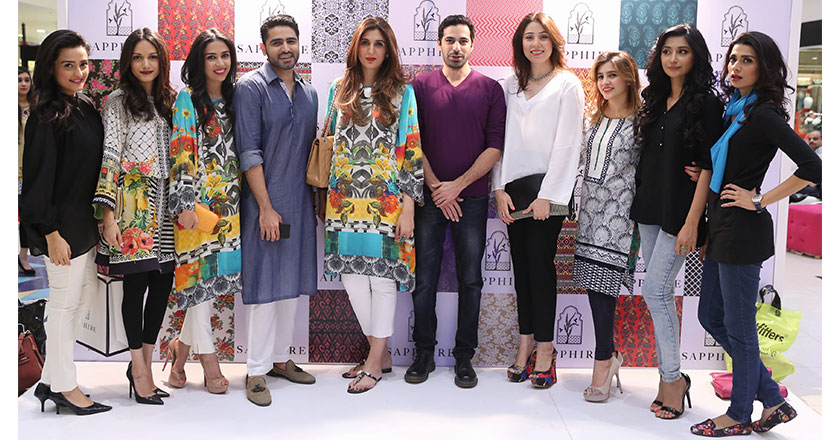 Sapphire a recently launched ready to wear retail brand has opened up their very first flagship store in Karachi at Dolmen Mall Clifron, on 5th December 2014.
The newly opened store features the refined products of various brands from well acclaimed designers, the concept is a brain child of Sapphire's creative director Khadijah Shah. Not only this, the store will be featuring many other branded products other than ready to wear clothing line, i.e. at affordable prices.
Some of the event's attendees included Amna Babar, Hina Tareen, Fia, Sana Ansari and Fauzia Aman. On the launch of its flagship store, Sapphire's director, Nabeel Abdullah has said,
"The idea was to bring a superior product into the Pakistani market, both in terms of quality and design. We are selling a 'designer' product at an affordable price for the consumer. With Sapphire Group's manufacturing strength and Khadijah Shah's beautiful design aesthetics, we hope to set a new standard in Pakistan's fashion industry."
Sapphire hosts a range of products which includes stitched day wear and unstitched printed fabric for women, scarves, a special formal range 'Naqaash', a menswear line 'Shikaara' and a range of precious and semi-precious stones jewellery called 'Nigeen'.
With a price range starting from PKR 2,200, Sapphire's debut winter fabric collection reflects an eclectic bohemian spirit through vivid designs and bold embroideries. For the new line, the team drew on their shared passion for art, block-print, vintage floral patterns and chinoiserie to compose prints and embroideries, employing new methods to recreate old world craftsmanship on luxuriant woollen and silk fabrics custom made for the winter season.
For more information visit Sapphire's official page here.