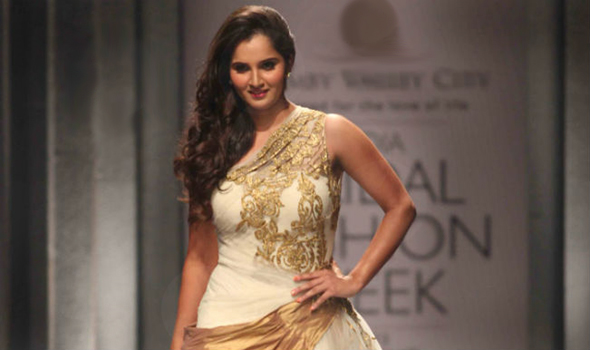 India's leading tennis star Sania Mirza has celebrated her 29th birthday on Sunday, November 15, 2015. She holds the number one rankings in both singles and doubles play and has won five grand slams besides bagging several prestigious awards.
Here is how she celebrated her birthday:
Born to a sports journalist Imran Mirza and Naseema in 1986, Sania Mirza started played tennis at the age of six. She kicked off her professional innings in 2003 after being trained and coached by her father and Roger Anderson.
Did You Know? Sania Mirza was the first female Indian tennis player to surpass $1,000,000 in total earnings.
She won the Wimbledon junior girls doubles title in 2003 alongside Russian star Alisa Kleybanova.
Did You Know? Sania Mirza is a great swimmer.
The tennis star made headlines after smashing the ITF Women's Circuit and the WTA tournament in Hyderabad.
She became the first Indian ever to win a WTA title of any kind by capturing the doubles title partnering with Liezel Huber.
Did You Know? Sania Mirza has established a tennis academy in Hyderabad.
2015 has been a very special year for the Tennis sensation. Mirza along with her partner Martina Hingis won two Grand Slam women's doubles titles at Wimbledon and the US Open along with seven other titles at Indian Wells, Miami, Charleston, Guangzhou, Wuhan, Beijing and, finally, the season-ending WTA Finals in Singapore.
Did You Know? Sania Mirza is the brand ambassador for the Indian state of Telangana.
With a series of victory at Indian Wells, Miami and Charleston under her belt, Mirza became the first Indian to reach No.1 in either discipline – singles or doubles – on the WTA Rankings.
Did You Know? Sania Mirza was named one of the "50 Heroes of Asia" by Time magazine in 2005.
Sania Mirza was announced as UN Women Goodwill Ambassador for South Asia in 2015; the first South Asian Woman to be appointed as a Goodwill Ambassador in the organization's history.
Did You Know? Sania Mirza has almost as many Twitter followers as Maria Sharapova and Venus Williams combined.
Sania Mirza has been raised in a religious family and has acquired her education in Hyderabad. She married Shoaib Malik, Pakistani cricket star in 2012 and is lovingly referred to as bhabi in Pakistan.