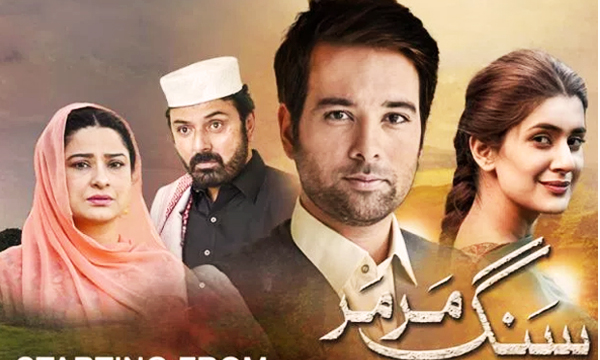 The latest drama on HUM TV, Sang-e-Marmar is a tale of love, loss, betrayal and the revenge consisting of lies that can destroy families and relations. The story circulates around Aurang and Shireen.
Shireen grows up believing and assuming that Aurang is her life partner while Aurang always considers her as a good friend. In the pursuit of his dreams, Aurang forgets about his childhood friendship.
Listen to the OST of Sang-e-Mar Mar drama:
https://www.youtube.com/watch?v=qbH5me3hkuY
Shireen feels betrayed and sets on a series of revenge and vendettas that fill both the families with animosity and hatred becoming sworn enemies.
The drama also showcases the tribal values, the Jirgah system and how women are often degraded in the tribal areas.
Will Shireen ever realize her mistake? Will she be able to set the fire out that she has ignited for herself and those around her?
To find out, watch Sang-e-Mar mar only on HUM TV every Thursday at 8.00 PM.
Writer: Mustafa Afridi
Director: Saif E Hassan
Production: Momina Duraid
Cast: Sania Saeed, Noman Ijaz, Mikal Zulfiqar, Kubra Khan, Qazi Wajid, Omair Rana, Agha Mustafa, Uzma Hassan, Paras, Beenish, Hassan Noman, Tipu Sharif, Kaif Ghaznavi, Arshad Hussain, Khalida Yaseen, Naik Muhammad, Iffat Siddiqui, Zahida Tarha, and others.
Mahira Khan Starrer Bin Roye Movie to Air on HUM TV as 'Bin Roye Aansoo' Drama [Watch Trailer]
Stay tuned to Brandsynario for more updates.