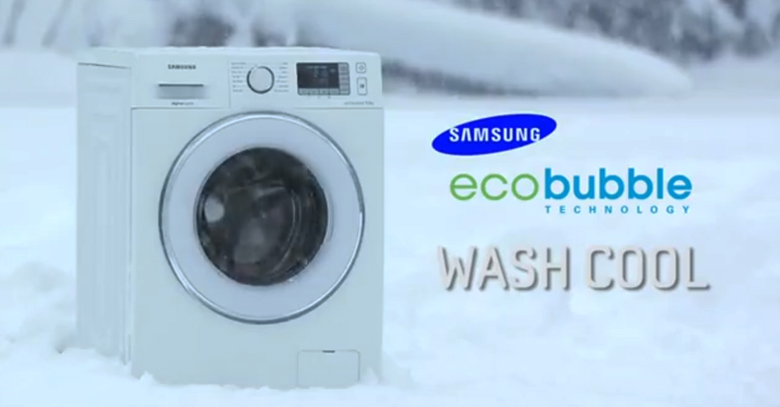 Samsung surprises us again. This time not by a gigantic Phablet or smartphone but by a rather imaginative advertise of its new Washing Machine.
The clever and imaginative advertisement starts with (what seems) a video made from a handy cam. The video shows a seemingly real footage made by the crew of Samsung setting up the new washing machine in knee-deep snow when suddenly a grizzly bear appears, from the wild.
The crew backs up to evade the imminent danger as the beast makes his way away to the washing machine.
To everyone's surprise, the bear stands up only to take off the dangerous-looking bearskin, beneath which is a really comic bear with boxers. The bear puts the skin in the machine and waits for it to be washed. Meanwhile the bear dances, takes pictures, reads and apparently has a lot of fun.
After the wash, the brutal beast takes out his 'coat', which is pristine white, wears it and walks away. The Samsung washing machine washed the bearskin into becoming all white, hence turning the grizzly bear into a polar bear.
The ad is an imaginative take on the capabilities of the new Samsung washing machine. It encompasses the visual capabilities of 3rd generation and age old innovation of the company.
Samsung group, which currently employs more than 425,000 people, is considered to be one of the biggest corporations in the world.
After the 'Samsung galaxy S4 stare-off', this campaign stands out in the recent creative ads from the company.