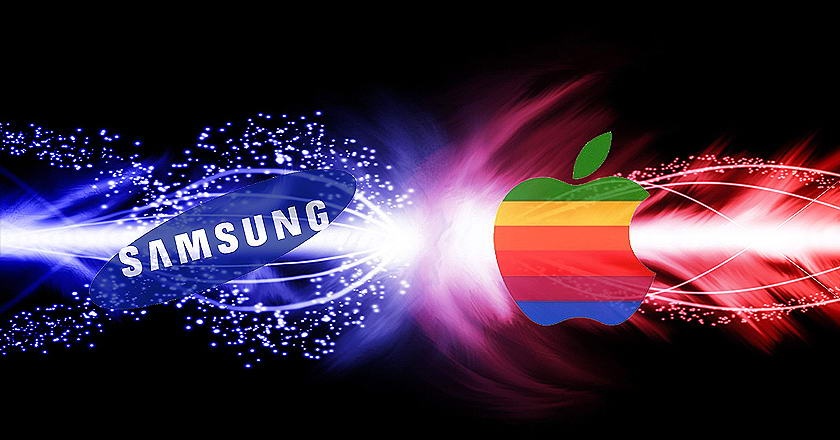 The year 2014 has undoubtedly been the year of technology. But then again, with the speed at which technology has been growing, every passing year seems to be THE year of technology. However 2014 was the year when tech-giants Apple and Samsung waged a new, unprecedented war of mobile technology, with both staking strong claims to being the unmatched kings of handheld technology. As we wrap up 2014 with the Apple iPhone 6 and the Samsung Galaxy S5 and Samsung Galaxy Note 4 firmly being the most popular phones, our sights now turn to the next year when these two tech-giants go head-to-head again with the launch of their new phones – Apple iPhone 7 and the Samsung Galaxy S6.
With the rumor mills racing up, Brandsynario looks closely at the leaked specs of these two phones.
Samsung Galaxy S6
First things first – it is being widely reported that the Samsung Galaxy S6 (codeword: Project Zero) would feature a fully bendable 5.3 inch screen, with QuadHD screen resolution of 2560×1393, and a metal body casing. Along with the 'dual-edged' screen, the rear camera is thought to be around 16-20megapixels, with a 5megapixel front shooter, with the rear camera holding the capability for 4K video recording. Technically speaking, the S6 features the 64-bit Exynos 7420 SoC (System on a Chip), the chipset which includes four Cortex A57 cores and four Cortex A53 cores.
Furthermore, the SoC also packs the Exynos Modem 333 which enables high-speed LTE connectivity. The Galaxy S6 includes 32GB, 64GB, and 128 GB internal storage options and a Broadcom BCM4773 chip that reportedly helps conserve battery. Unsurprisingly, the Samsung Galaxy S6 would operate on the new Android 5.0 Lollipop OS. The expected date of release for the S6 is thought to be around late January or February 2015.
Apple iPhone 7
There are some rumors circulating on social media suggesting that Apple will not name its new phone the 'iPhone 7', instead looking to name the new devices as an upgrade of the 'S' models. However, as it is widely known, the people at Apple like to keep all their cards close to their chests, and have not yet released any specific details of their device. There are strong rumors about the new iPhone having a glasses-free 3D high-resolution sapphire glass display screen, which allows users to experience high quality three-dimensional viewing with their naked eyes.
Additionally, the iPhone makers are revamping their phone experience without making any significant changes to their already-altered iPhone 6 models. A modified 21 megapixel, dual-lens camera is widely tipped to feature on the new device which is capable of capturing DSLR quality images. Finally, the Apple iPhone 7 is rumored to include a new Apple A9 processor, while the price of the device being in excess of $850. Apple is understood to stick to its September/October deadline to release its latest iPhone device.