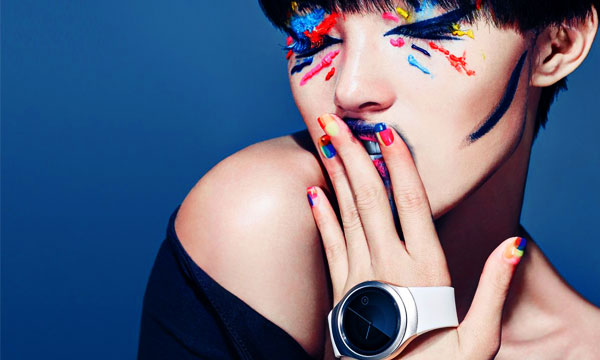 The highly anticipated and globally launched Samsung Galaxy Gear S2 is available for pre-booking now in Pakistan in Sports and Classic versions for Rs. 35,000 and Rs. 39,999.
The Samsung Galaxy Gear S2 was internationally launched in September 2015.
Built with a stainless steel body and a full circle face. Designed by Alessandro Mendini, the watch is one stylish gadget and boasts a rotating bezel around the face allowing users to navigate through the watch with a convenience not offered by competing for smartwatch brands.
Read More: Samsung Galaxy Gear S2: Design, Specs and Features
These are the Store Locations in Pakistan where the watch is available for Pre-booking with only a deposit of PKR 5000.
Gear S2 – Store Locations:
Lahore
Mobile Store Hassan Tower, Gulberg, Lahore
Younis Mobile Main Hall Road, Lahore
AZ communication Ground Floor, Near BOP, Hafeez centre, Lahore
Hyperstar Fortress Stadium, Cantt, Lahore
Phone Corner Fazal Trade Centre, Lahore
Samsung Experiences Shop – MOL Mall of Lahore, Lower Ground, Lahore
Msnd DD Outlet DD Commercial Market, Defence, Lahore
IT World H Block Market, Near food street, Defense, Lahore
Abdullah Mobile Main Hall Road, Lahore
Max Technologies Basement, Hafeez Centre, Lahore
Karachi
 Star City Mall
Shifa Electronic Haroon Market Saddar
Hyperstar Dolmen Mal, Clifton
Cell Cam Ground Floor , Start City Mall, Saddar Market
Minhas Electronics Hashoo Terrace, Clifton
Mobile N Mobile Char Minhas Chowrangi, Bhadarabad
New Ali's Mobile Zam Zam Street
Faisalabad
Mobile Mart Katchery Bazar Katchery Bazar
United Mobile D Ground D Ground
Selecto Mobile Katchery Bazar
Voice Links D Ground D Ground
Rawalpindi
Mobile Home Ground Floor, Singapore Plaza, Cantt
Cellko Ground Floor, Singapore Plaza, Cantt
Samsung Store (Zenose) Ground Floor, Umair Centre, 6 Road, Murree Road
Mobile Hub Ground Floor, Singapore Plaza, Cantt
Multan
Al-Habib Mobile Mall Plaza, Basement
Advance telecome Khan Plaza, Backside, Cantt
Makkah Mobile Ground floor, Mall Plaza
Peshawar
Fast Link Communication Sata Gatai Plaza, Mall Road, Cantt
Green Tech Display Bilour Plaza, Saddar Road, Cantt
Qureshi Mobile, Ground Floor, Bilour Plaza, Cantt
Islamabad
Karachi Mobile Main F8 Markaz Market
Phone 4 u Jinnah Super , F7 Markaz
Hyderabad
International Mobile Near Hotel Faran, Cantt
Sakhrani Mobile Near Hotel Faran, Cantt
Sargodha
New Dream Mobile Ground Floor, Trust Plaza, Fatima Jinnah Road
Babar Mobile Ground Floor, Trust Plaza , Fatima Jinnah Road
Quetta
Zaffar Electronic Hashimi Market, Liaqat Bazar
Janan Electronic Liaqat Bazar
Gujranwala
New Look Mobile Farooq Centre, Near Sailkot Adda
Bhawalpur
Welcome Mobile  Shop # 34, Ground Floor, Bhawalpur Trade Centre
Okara
Nisar Telecom Venus Chowk, Benazir Road
Related: Samsung Introduces the Galaxy Gear S2 Smartwatch
The smart watch by Samsung was heavily advertised and promoted under the "Next is Now" campaign. IT is being promoted by Samsung Pakistan as well. Take a look at the promotional content and details:
[fb_embed_post href="https://www.facebook.com/SamsungPakistan/photos/a.215714511813959.72309.151132238272187/1054386911280044/?type=3&theater/" width="550″/]
[fb_embed_post href="https://www.facebook.com/SamsungPakistan/photos/a.215714511813959.72309.151132238272187/1055281991190536/?type=3&theater/" width="550″/]
[fb_embed_post href="https://www.facebook.com/SamsungPakistan/photos/a.215714511813959.72309.151132238272187/1056669601051775/?type=3&theater/" width="550″/]
[fb_embed_post href="https://www.facebook.com/SamsungPakistan/photos/a.215714511813959.72309.151132238272187/1057616914290377/?type=3&theater/" width="550″/]
[fb_embed_post href="https://www.facebook.com/SamsungPakistan/photos/a.215714511813959.72309.151132238272187/1059525674099501/?type=3&theater/" width="550″/]
[fb_embed_post href="https://www.facebook.com/SamsungPakistan/photos/a.215714511813959.72309.151132238272187/1060834003968668/?type=3&theater/" width="550″/]
[fb_embed_post href="https://www.facebook.com/SamsungPakistan/photos/a.215714511813959.72309.151132238272187/1061138863938182/?type=3&theater/" width="https://www.facebook.com/SamsungPakistan/photos/a.215714511813959.72309.151132238272187/1061138863938182/?type=3&theater"/]
[fb_embed_post href="https://www.facebook.com/SamsungPakistan/photos/a.215714511813959.72309.151132238272187/1062998117085590/?type=3&theater/" width="550″/]
[fb_embed_post href="https://www.facebook.com/SamsungPakistan/photos/a.215714511813959.72309.151132238272187/1062122100506525/?type=3&theater/" width="550″/]