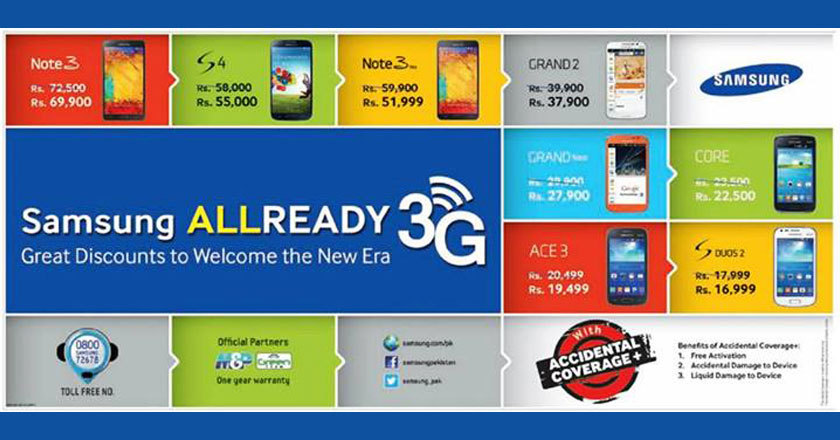 World's biggest handset manufacturer Samsung has announced its limited time deal for 3G handsets in Pakistan, as the country just went live on 3G.
The 3G era has just begun in Pakistan, changing many of the branding perspectives. Not only the telecom service providers but even the handset manufacturers are also marketing towards the promotion of 3G now.
The deal includes the following 3G enabled devices at discount rates:
Note 3
S4
Note 3 Neo
Grand 2
Grand Neo
Core
Ace 3
S Duos 2
Only 3% of the overall mobile phone users in Pakistan have potentially 3G enabled phones, while the rest are still using the 2G ones.
With 3G/4G being enabled in Pakistan, the 97% of the customers that are yet deprived of such advanced handsets are now looking forward towards some appealing and affordable deals.
Samsung is the very first of the hand-set manufacturers that has realized the need and has positioned its marketing accordingly.
The biggest handset manufacturer has slashed down the price of 8 of its 3G enabled handsets for its Pakistani consumers, making the deal hard-to-ignore for many of the consumers searching for 3G enabled smartphones.
Pakistan is a huge market when it comes to cell phones, the only thing needed to make a profit out of this market is brilliant positioning and timing, both of which has been tapped upon by Samsung's latest 3G phone deal.
Some of the additional features that the deal offers are the Accidental Coverage and Free Activation.
Have a look at the deal and grab your phone before it's too late.