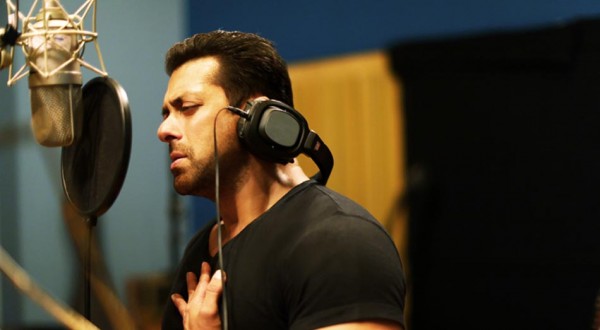 Salman Khan has set the B-town on fire with his record-breaking success of Bajrangi Bhaijaan. Now yet again, the actor has taken things up a notch by singing the romantic title track of the upcoming "Hero"
Previously we saw Khan humming to Kick's "Hangover". For the first time, the Indian superstar will be lending his vocals to Sooraj Pancholi, Hero's lead actor.
By popular demand . Schedule se ek din pehle . Dekho full gaana sirf hotstar par abhi . http://t.co/1I2NI5xfn6 #MainHoonHeroTera

— Salman Khan (@BeingSalmanKhan) August 6, 2015
Read more: Hero Movie: First Look Trailer Released!
While Hero is his own production venture with Subhash Gai, Salman is leaving no stone unturned to ensure that to make the movie a mega hit! So he takes his place behind the microphone again and devoted his voice to a special track in the tale.
Check the teaser of his upcoming tune "Mein Hoon Hero Tera" here.
Dabang Khan's voice appears very magical, sweet and melodious as he croons in the acoustic version. He was so much in love with the lyrics and the tune that he desired to record the "Love Song of the Year" in his voice. The rumor mill reveals that Salman Khan will too be starring in the video of the musical, along with, Sooraj and the leading lhady, Athiya Shetty.
Read more: Bollywood Movie 'Hero' First Look Has A Buffed Up Sooraj Pancholi
His earlier catchy track "Hangover" for Kick was a mighty box-office hit and was all the rage, even after the movie bid farewell from the cinemas. From the looks of the sneak peak of his new number, the tune is set to win the hearts of his fans and will surely remain a sensation for long in Bollywood.
A remake of the 1983 epic of the same name, Hero will be hitting the box-office on September 11.