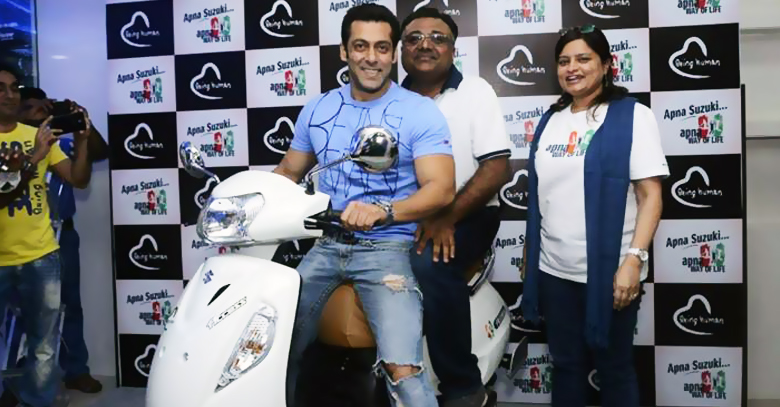 By Ufaq Ashfaque
Suzuki , in collaboration with the famous Bollywood actor Salman Khan launched a Special Edition of 'Access 125' motorcycles in India.
This special edition of motorcycles has been launched as a CSR initiative to collect funds for Salman Khan's  non-profit organization 'Being Human'.
Visual changes in Suzuki Access include faux leather seat cover, chrome-plated grab rail and rear view mirrors, 'Being Human' front emblem, 'Apna Way of Life' stickers on the side and a Pearl Mirage White paint job.
The 'Being Human' edition is priced at INR 58,975, slightly more than its current price tag of INR 57,887 Suzuki is targeting to sell 40,000 special edition scooters and another Rs 3 crore turnover from the sale of special edition.
Part of the revenue will be donated to heart surgeries, cataract operations, and education of the underprivileged and bone marrow donation camps.
Suzuki India's Executive Vice President Mr. Atul Gupta, "Suzuki is proud to extend its partnership with Salman. Suzuki globally is committed to contributing to the development of the community though social action programs. We are very happy to be able to contribute to the Being Human effort by promoting the cause through the presence of branded apparel at our dealerships and we are sure our customers will become partners in the goals of the Being Human Foundation."
Bollywood filmstar Salman Khan expressed his thoughts on this collaboration by saying, "I am really happy that Suzuki has launched a co-branded Being Human scooter. This is the first step in a long association between Suzuki and Being Human: The Salman Khan Foundation. Suzuki's nationwide network will help the Foundation increase its reach in its mission to provide education and healthcare for the underprivileged."
Such initiatives create a win-win situation for buyers and sellers.  Not only are clients aware of where their money is going, but the inculcation of community service is widespread across the customer segment at large.