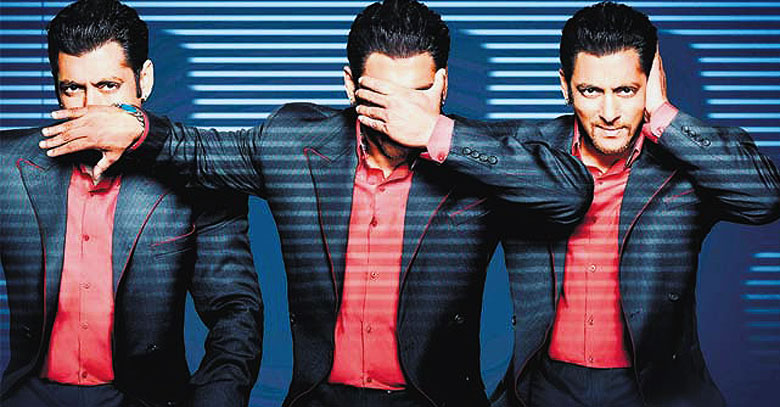 Salman Khan Will no longer host India's most expensive TV show, Bigg Boss after the season 7 finale.
According to sources closely involved with the show, they further confirm that the superstar has been associated with enough controversies and biasness for the show to handle, and the producers have finally decided to take Salman off the hosting contract for the next season of Bigg Boss.
Some even started to call Salman Khan the 'Bigg Boss' of the show, after he succeeded Amitabh Bachhan as the host back in 2010.
Salman's clear dislike of celebs like Shakti Kapoor, Pooja Bedi, Akashdeep Segal and more recently Sapna Bhavnani, Arman, Imam Siddiqui and Gauhar Khan has been in clear view of all the Bigg Boss followers. Khan's wrath towards the ones he  dislikes is also perceptible, as none of the aforementioned celebs managed to do anything substantial before they were evicted. Khan made it big in the news for such controversies.
However the bigger controversy arose when Salman Khan was seen being biased and extra polite to certain celebs ever since his first season. With his clear support to Ashmit Patel only to continue till the most recent Season 7 where Khan can be seen clearly in favor of Tanishaa Mukerji and Armaan Kohli.
To be fair, Khan and Ajay Devgan's friendship is no hidden fact. Rumor even has it that the rising emotional connect between Armaan Kohli with Ajay Devgans's spouse Kajol's little sister, Tanishaa Mukerji has gotten the brother- in- law worried.
In extension to the same rumor, Devgan has even asked Salman Khan to make sure Tanishaa stays away from any further controversy.
Major Indian websites go one step forward in claiming that Slaman Khan has assured Devgan that Tanishaa needs to be visible on media and that Khan will build the apt image of her, therefore Kajol family's effort to evict Tanishaa from the show and further controversy is not a viable option.
However as true these rumors might be, they certainly draw attention to the show . With only four days left ito conclude Bigg Boss season 7, the channel might just surprise their fans in Bigg Boss 8.