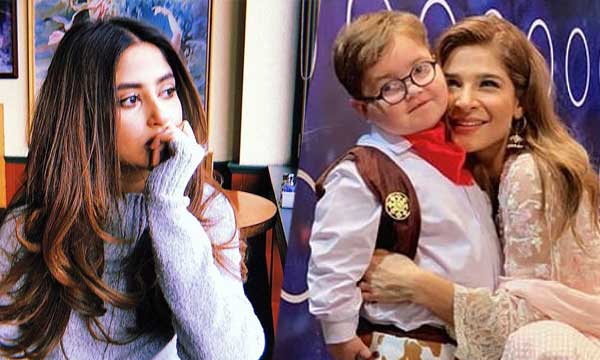 The latest internet sensation Ahmed Shah has taken social media by storm because of his cuteness and adorable antics.
His fanbase has multiplied by manifolds and he has left the whole nation gushing over him every time he appears in any TV program.
However, there are a number of celebrities who are expressing their concerns over his constant presence at live transmissions and exploiting him.
Azfar Rehman Takes a Savage Dig at HUM TV's Ramadan Transmission
Recently, a famous Pakistani Youtuber Arslan Naseer released a video where he talked about commercializing Ahmed Shah just for the ratings of channels.
He also explained that such an attitude shouldn't be appreciated as it will only encourage him to be more aggressive.
Have a look at the video!
https://www.youtube.com/watch?v=Z3p-ujDl9GM
As soon as the video was released, it caught the attention of the Yakeen Ka Safar actress Sajal Aly where she agreed to him.
The starlet took to her Instagram stories and wrote: 
Guys watch this video and WAKE UP. Thankyou for making this video @arshalan.naseer.cba
Ahmed Shah: Netizens Debate Over TV Channel's Obsession With the Child Star
Moreover, a number of netizens are also raising their voices over this issue and saying that his health shouldn't be compromised for money.
Have a look at what people have to say!
Exact thing I was talking about an hour ago with my friend.

Is bachey ka school wagira sab hatwaa k is kaam main lagaa diyaa hai sirf ratings k liye.

But somehow this is bad with this kid.

Behtareen review by @ComicsByArslanhttps://t.co/4hGXyRBUSH

— Azhar Ul Hasan. (@AzhrulHasan) May 28, 2019
Bachay hain, and it's irritating how their parents have exploited their childhood antics for cheap fame… Yehi Ahmed Shah bara ho ke "the ladies man" type creep ban jaye, who's responsible?

— ساHর (@ajeebSi) May 24, 2019
Where's woke and anti harrasment crowd, Ahmed SHAH being used for giving chumis to Fahad Mustafa and his guests!

# Justice for that Cutiepie

— Shikaa (@ShikamaruPk) May 26, 2019
exploiting the cuteness of #AhmedShah & displaying his expression as showpiece to earn ratings is beyond sense. His childhood, his privacy & his reputation are all going to be affected for life.#ARYDigital

— farah lodhi khan (@farah_lodhi) May 28, 2019
What are your thoughts about the story? Let us know in the comments section below.
Originally published on Veryfilmi.com