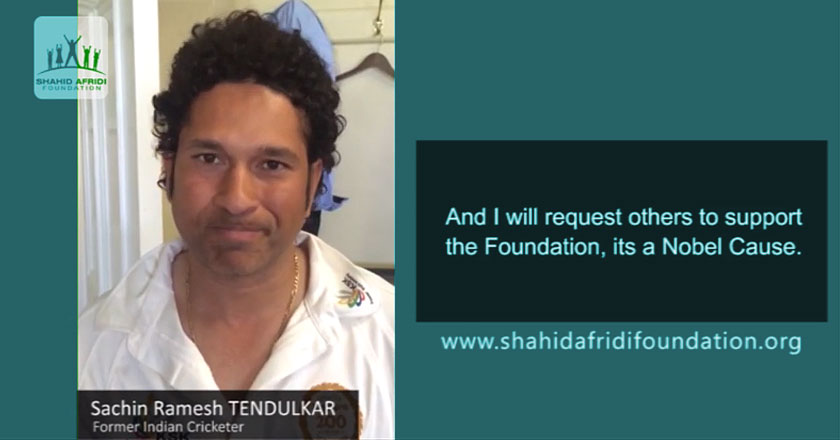 By Arub Shaikh
Former Indian Cricketer Sachin Tendulkar recently congratulated Shahid Afridi on his NGO, Shahid Afridi Foundation.
Watch the video here: 
"I just met Shahid and he told me that lots of good work is being done for less privileged people through his foundation. I would like to congratulate him for the good work and ask others to support the noble cause." The Little Master said in the video posted on NGO's official Facebook page.
Pakistan's favourite all-rounder and a thunderbolt on the field, Shahid Afridi is also a social worker with an empathetic perspective towards his fellow countrymen.
"Taking strength in helping and supporting people who deserve happiness is a goal of mine." – Shahid Afridi
The Shahid Afridi Foundation was established in March 2014 with the core objective to serve the country and its citizens.
The motto of the foundation is – "Charity laced with philanthropy."
Health, Education and Sports is what the trust focuses on. It aims to cater to the needs of the people around Kohat and provide them with fundamental health care, essential survival necessities and basic education. It also plans to boost their self-esteem and work to spread happiness around the society.
The trust operates a maternity hospital in Tangi Banda, Kohat, KPK. It provides medical healthcare facilities for free or at minimal OPD charges. Containing 16 beds at the moment, the hospital has recently completed its first stage of development.
The cricketer cum philanthropist feels that this is his way of paying back to his country and its people for the constant love and support they have always showered upon him.