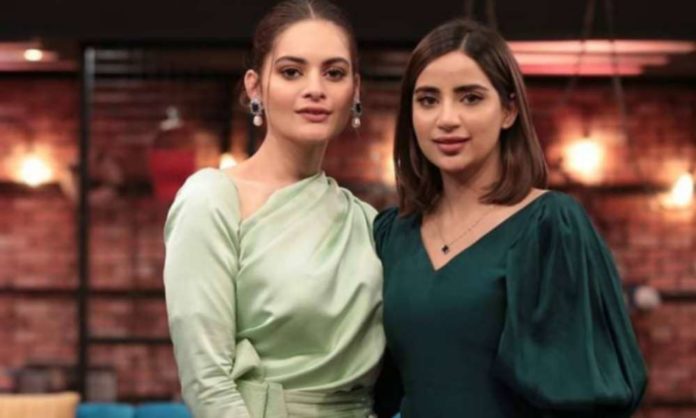 Minal Khan and Saboor Aly may be celebrities but their problems are not very different from ours! The two have found themselves stuck in a difficult spot are leaning on each other for support. One has a target of 5 KGs and one has a target of 6, can you guess what we're talking about?
Minal Khan's Struggle
Minal Khan recently posted a throwback picture in which she's dressed in a popping red jora. With high heels and a red lip, she looks like a million bucks! The actress who just returned from her honeymoon, however, had a problem. She's looking to lose weight! We're guessing it's the Maldives add-ons.
View this post on Instagram
Minal Khan wrote in her caption that she wants to lose 5 kgs. The best part has to be the clown emoji— we can all relate! However, the actress is motivated and is dedicated to motivating others too. She added, "who's with me?" so she and her fans and friends can follow suit.
Saboor Aly Joins Minal Khan
It appears Minal Khan's call to meet the target of losing weight reached Saboor Aly. She also commented under the post but with her own figure! Saboor Aly is looking to lose 6 kgs and the emoji she added along says it all. We've all been there, it is scary.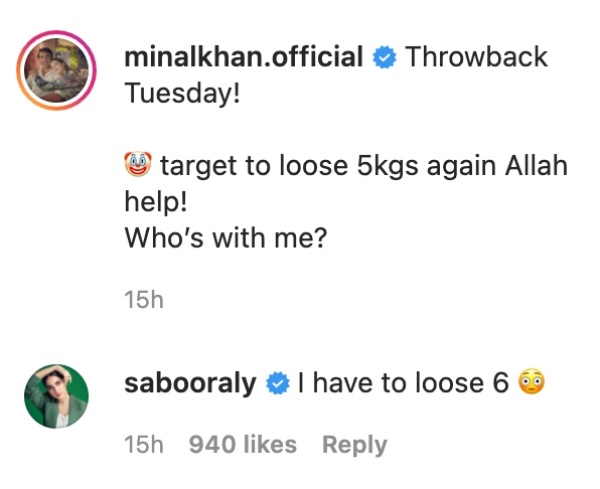 There's an Urdu phrase that goes, "dil ko dil se raah hoti hai" and it couldn't be more relevant here. Minal Khan was looking for someone to support her in this weight loss ride and Saboor Aly came right in time.
Read more: Saboor Aly Has An Epic Response For A Troll Who Called Her 'Moti'
Fans Support The Two
Many in the comments section were supportive of two fellow actors with the same goal: to lose their target weight. They believed it would be easy for the two since they have already managed to do so before. Others were inspired to also begin working to meet their goals. Some added supportive comments, have a look at what they said: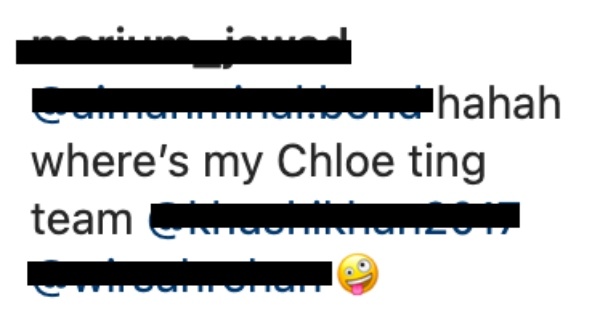 Read more: Pakistanis Are Comparing Aiman & Minal Khan In Terms Of Modesty
Chloe Ting Is The Way To Go
If you're reading this and you're looking to get into shape, there's only one name you need to know. Chloe Ting. The woman has a fitness-based Youtube channel and routines that target everybody area you want to define. Keep in mind, the routines are deadly but they're effective. Let's get into that hot girl winter shape!
Stay tuned to Brandsynario for the latest news and updates.