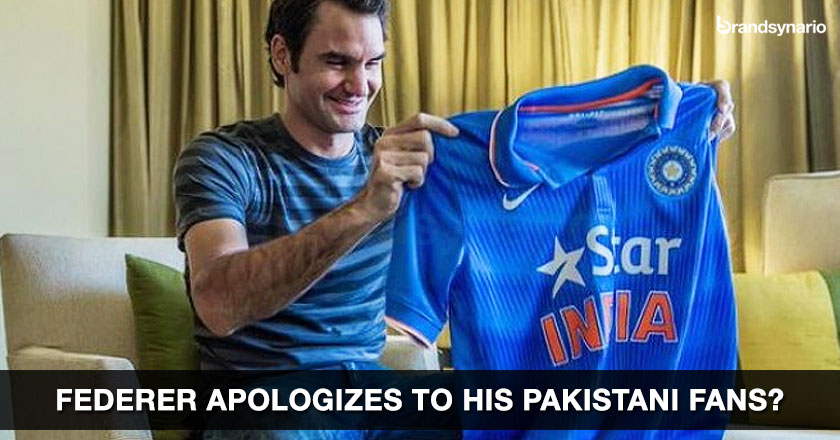 Tennis legend, Roger Federer, got caught in an unintended controversy for supporting the Indian cricket team as part of their common sponsor Nike's campaign.
Last month, the Swiss player posted a photograph of himself admiring the Indian cricket team jersey with the caption, "Dressing up for a Gentleman's game today. #BleedBlue."
However, his Pakistani fans did not take the incident well and lashed out on social media networks disowning the legend from his star status.
Strangely, Federer felt the need to apologize and he did so at Dubai Duty Free Tennis Championships in UAE clarifying that his actual support is for South African cricket team.
The tennis player claimed never having met the Indian team personally except for Sanchin Tendulkar and Virat Kohli and attributed the support to more of a marketing campaign.
"It wasn't the idea [to upset Pakistani fans]. It was more of a Nike thing to be quite honest. It was a Nike campaign they had because I met some of the Indian players and I had just spent some time in India so they presented the shirt to me."
He further clarified his support for the Proteas cricket team, probably originating from the fact that it's his mother's hometown, "I support South Africa, and everybody knows that. The idea wasn't to spark any fire there. So I'm sorry that it did."
The outrage at Federer's support for the rival team in Pakistan was unanticipated and strong at the same time.
A Pakistani Federer fan made his disappointment clear by writing, "I deleted over a hundred Roger posts from my Facebook wall as well as the photo collection I had painstakingly put together. I also donated my RF cap and my collection of books about you. I will always respect you, love your game and wish you success. I just won't be along with you for the ride."
Yet another writer conducted a small poll to gauge the reaction and found out that out of twelve die-hard Pakistani Roger Federer fans felt hurt and betrayed and six of these called him a "sell-out", taking away their support altogether.
Roger Federer has previously had associations with India, what with playing tennis with Bollywood stars Deepika Padukone, Aamir Khan and Akhshay Kumar and other IPTL campaigns. However, no one seemed to have had an objection till he took sides in the aggressive cross border Cricket rivalry.