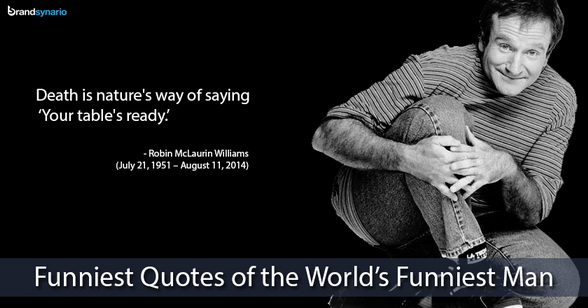 Oscar Winning actor, beloved father and a man  often regarded as the world's funniest – Robin Williams was found dead in his apartment on Monday night. The apparent cause of death has been determined as suicide by 'asphyxiation' although a definitive declaration remains impending.
Let's remember the man with what he did best, comedy – The medicine for the soul.
Robin Williams started his career as a standup comedian. He quickly rose to fame with his mimicries and inventive sense of humor. Williams then conquered the field of acting on both fronts – television and Cinema.
His versatility in acting can be evaluated by his performances as the memorable 'Popeye (1980) and Genie in Aladdin and as Alan Parish in Jumanji and also while playing the contrasting character of the inspirational English teacher John Keatings in the Dead Poets Society.
Robin Williams won an Academy Award for his undying performance in Good Will Hunting as Sean MaGuire. In addition to this he has to his name, 54 other award; including two Emmy Awards, four Golden Globes, two Screen Actors Guild Awards and five Grammy Awards. Not to forget a total of 67 notable nominations.
The only question that remains now is that why would a man with such a rich life commit suicide?
According to Williams' publicist, the actor was battling a severe case of depression along with getting himself to rehab, as recent as July 2014.
What were the reasons behind Williams' depression? Well, it is too early to comment for now, but some might consider the reason to be his failed marriages while others regard his own character to be chief reason for his doom.
Robin Williams daughter Zelda Rae took to social media on Monday night to honour her father with these heartwarming words.
— Zelda Williams (@zeldawilliams) August 12, 2014
Previously, Williams had shared a heartening post on Zelda's 25th birthday, the post read, 'Quarter of a century old today – but you will always be my baby girl'. 
RIP Robin Williams, you will go on to live forever in the hearts of all of your fans. 
"A mans' worth is not determined by his wealth or his fortunes. A mans' worth are the tears shed at his death, a man's true fortune are the people who would feel his absence." or in the words of the man himself;
In the memory of Robin Williams (July 21, 1951 – August 11, 2014)