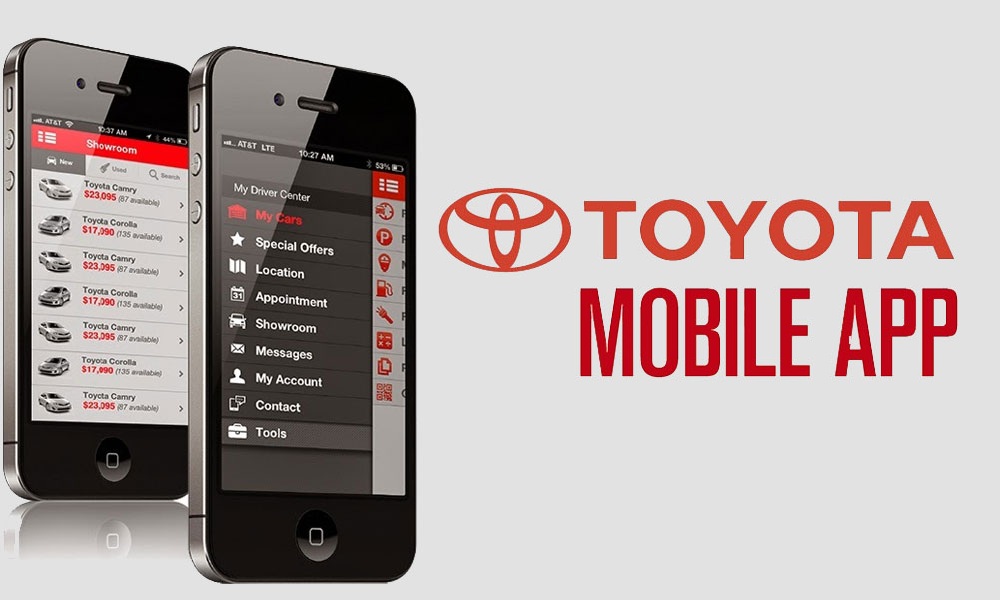 92 views
This year is turning out quite differently for the Pakistani Auto-Industry. Where Pakistanis were used to see a new development quite scarcely, things are certainly picking up the pace. From the arrival of 10th Gen Civic to the arrival of Toyota Hilux Revo, from the introduction of a BMW X1 to the affordable Audi A3, the confirmation from Ministry of Petroleum on upgrading country's fuel standards from November. Last but not the least Honda Atlas introducing an online tracking feature for the delivery of new Honda Civic.
Now it seems Toyota Indus has made a giant leap by introducing a mobile application to facilitate their customers.

Apparently, this application is aimed to facilitate the customers in appointment booking, locating nearest (3S) dealerships, providing maintenance guides, warranty information, news updates and online feedback.
On the surface, things look great. So, what happens when you actually use this application? In this article, I will be looking into the functionality and UI of this (Toyota Indus) application for its android variant.
I believe the company is aiming to cement its brand presence in the Pakistani market as the pioneer of introducing new trends in Pakistan. More importantly, Toyota Indus remains the only company to introduce timely upgrades across all its variants, as reported in History of IMC by PakWheels.com.
So, First Up: Installation and Settings
Finding the application on play store is simple enough. Type in 'Toyota Indus' and result pops up instantly. Once installed, the setting up procedure is pretty simple.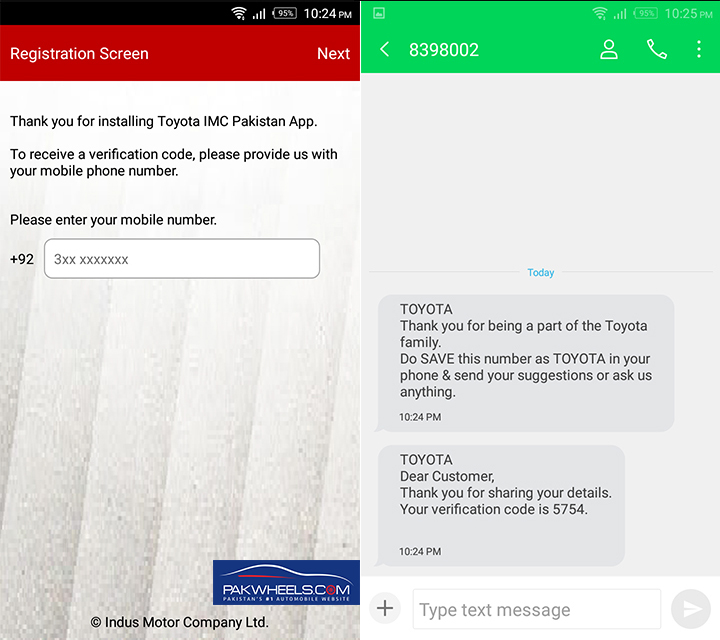 Entering your mobile number is mandatory as this application follows it up with a 4-Digit security pin for the authentication purposes.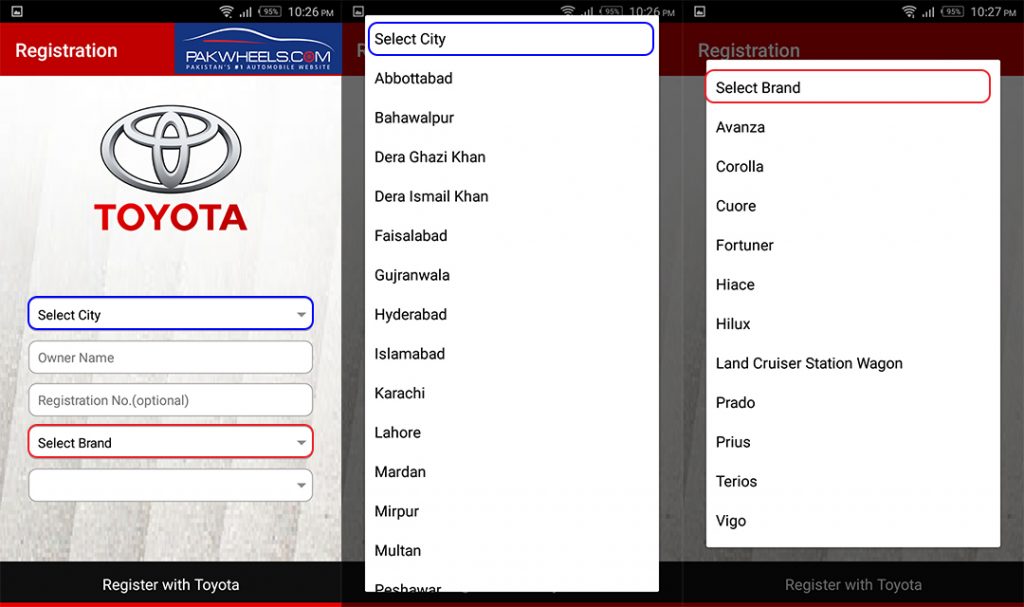 Next step in the setting up the app is adding a 'Toyota Vehicle'. User Interface looks simple enough to understand and is very responsive.
This part of the application starts with the selection of city (across Pakistan), followed up with the owner name, registration number, brand and its variant.
https://www.youtube.com/watch?v=yCt5CSNWkkM
But it seems there are a few bugs left in the (android) application. Let me put it this way, when you select a vehicle brand, the application asks you to follow it up with the version/model. Now in the case of Corolla, there seem to be no issues. However, if one were to select 'Land Cruiser Station Wagon' as the brand, then sadly this vehicle has no multiple variants to choose from, which in a nutshell means you can't add Land Cruiser as a vehicle.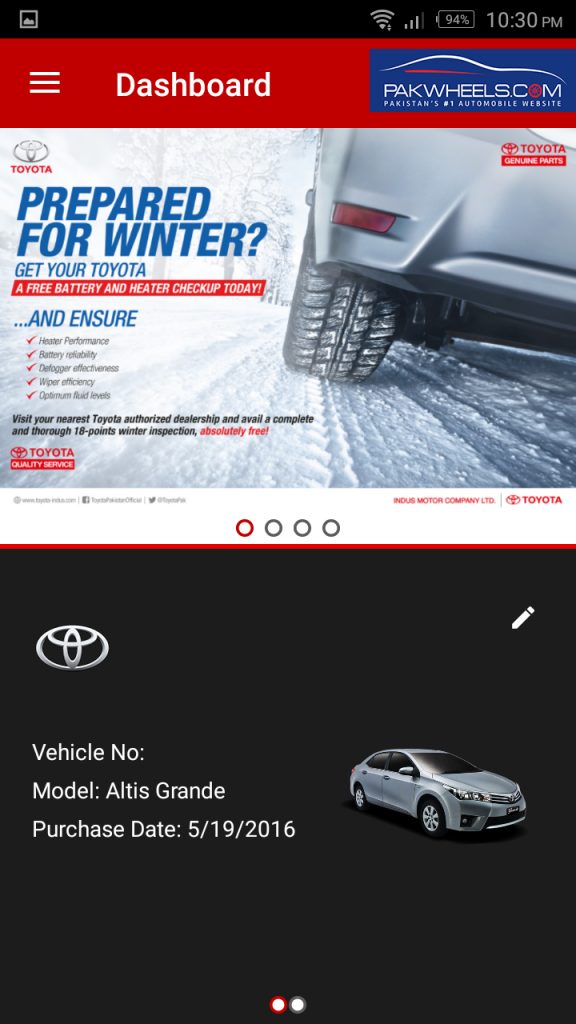 Once the vehicle is added, the dashboard of the application pops up. There is a slider on the top half of the screen, which is basically giving an overview of the services available. And in the second half, your vehicle information is visible. Here, I should mention that adding more vehicles is possible, you just have to click on the little add (+) button and fill out the form again.
App Features 
As I mentioned before this application is aimed to facilitate Toyota Indus customers by maintaining a vehicle maintenance history and locating (3S) dealership networks.
So, let's go ahead and analyze what each of application's feature does.
Appointment
As obvious by the name, 'Appointment' is all about scheduling a car's maintenance at (3S) Toyota Indus dealer. The form is pretty straightforward, with the city selection and the dealers available in that city. Next up is the mileage of the vehicle, which is followed up with the purpose (Routine Maintenance, Repair Job, Warranty Job and Body-Paint job). But the most important part is the preferred date and time, which is aimed to provide convenience to the customers.
Dealership Location 
I will go ahead and admit that this is a nifty feature and it shows the location of (3S) dealers near your position or the city of your selection.
However, this feature could be improved by adding in the routing option from your position to (any) dealer's location, which will provide more convenience to the customers by giving them the directions to reach their selected dealership.
Maintenance Plan
This feature basically gives out the recommended maintenance needed at any user selected range.
3S
This feature is a compilation of services offered at each 3S dealership of Toyota Indus.
Videos
All features aside, the company has taken an initiative to educate people on the vehicle-related terminologies and features, (e.g: How they work?) which I might add is good to see. However, majority of Pakistanis will prefer to have access to Urdu content (in addition to English)
Feedback
If I am not mistaken then the company will be introducing a point system, based on the feedback received from the users for the dealerships to encourage better customer relations and efficient work environment, which will help the company to evaluate each of their steps in a more numeric and efficient way.
Nonetheless, the form seems pretty easy to understand as it starts with the vehicle, city, dealership, package and date-time selection, which is followed by customer's feedback on the services provided by the dealership.
News & Events
This feature is basically aimed to keep the customers up-to-date with any news or events released/organized by Toyota Indus. Clicking on this tab will lead you straight towards the Toyota Indus website, where the consumers can browse at their leisure.
However, incorporating alert notification will be a much-appreciated feature by the customers, as it would rid of them from manually visiting the company's website from time-to-time.
My Vehicles
This tab allows you to have a look at all of your added vehicles, and additionally it gives you the option of adding new (Toyota) vehicles.
Support
One tap on this tab will lead you straight towards your dialler with the company's helpline on it, which enables you to quick-call the company in two taps.
Final Thoughts
This decision by Toyota Indus should be lauded and as it seems that the company has really been more receptive to introducing new methods for customer convenience. That being said, as I mentioned before, there are a couple of bugs in this application (Android), which need to be addressed as soon as possible. In particular, the vehicles, which do not have variants cannot be registered and the company needs to add the routing feature from any location to a (3S) dealer.
Likewise, notification alerts for any news or events should be incorporated in this application as it will keep the users updated and the need for manually checking the website, again and again, will be eliminated. Moreover, I believe the company should add a little tab of their showroom vehicles, their specs. and prices in this application, as it will serve the purpose of mobile access to company's product knowledge.
Stay tuned to Brandsynario for more updates.
---
Contributed By:  Abdul Hanan
Abdul Hanan is a content writer who loves to write. A writer by day and a reader by night, he loathes to discuss himself in the third person and is passionate about automobiles.