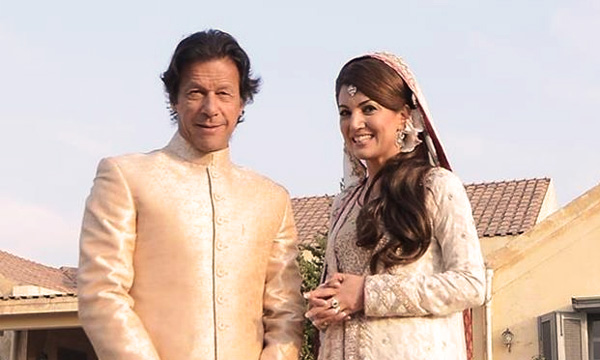 Imran Khan's ladylove, Reham is clearly the most important person in the Kaptaan's life & she misses no chance to flaunt it. The British-Pakistani journalist Reham Khan has restrained the female party workers from taking selfies with Imran Khan, as reported by ARY News.
The incident occurred on Wednesday when Kaptaan along with his wife, Reham Khan, reached Supreme Court to attend the hearing of the Judicial Commission in order to inquire about rigging in the recent elections.
Some female party workers, outside the courtroom, expressed their dire wish to take a selfie with Imran Khan, however sadly, it couldn't be materialized because Reham Khan forbade them by saying "such thing cannot be done there."
Also Read: Imran & Reham Khan Narrowly Escape Helicopter Crash
On the other hand, our Facebook was flooded with images of Imran and Reham with different celebrities and party workers for a fundraising Iftar dinner for the Shaukat Khanum hospital in Islamabad.
Have a look at some of the pictures from the fundraising dinner below:
[fb_embed_post href="https://www.facebook.com/Pakistan.Drama.Fans.club/photos/pcb.877612668986591/877612088986649/?type=1&theater/" width="550″/]
[fb_embed_post href="https://www.facebook.com/Pakistan.Drama.Fans.club/photos/pcb.877612668986591/877612105653314/?type=1&theater/" width="550″/]
[fb_embed_post href="https://www.facebook.com/Pakistan.Drama.Fans.club/photos/pcb.877612668986591/877612145653310/?type=1&theater/" width="550″/]
[fb_embed_post href="https://www.facebook.com/Pakistan.Drama.Fans.club/photos/pcb.877612668986591/877612185653306/?type=1&theater/" width="550″/]
See the complete album:
[fb_embed_post href="https://www.facebook.com/media/set/?set=a.10153022643562029.1073742607.234494467028&type=3/" width="550″/]