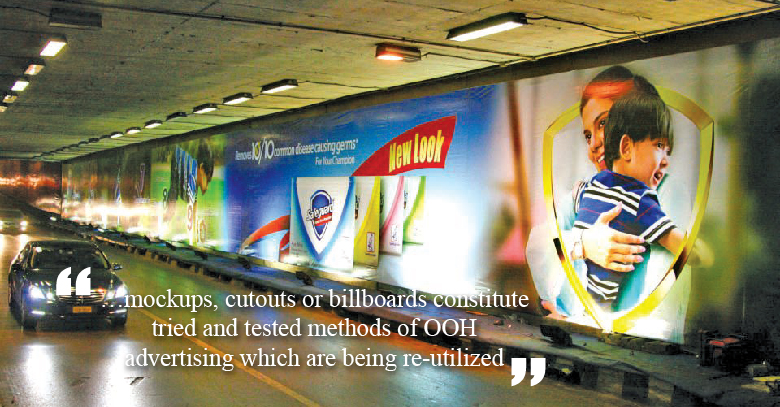 Rafi H Abidi, Founder and CEO, Outdoor Advertising Assets says "…mockups, cutouts or billboards constitute tried and tested methods of OOH advertising which are being re-utilized." Let's see what else he shared with us.
Synergyzer: Tell us about your experience.
Rafi H. Abidi: I studied Civil Engineering, but never practiced it. I have mostly been self-employed, starting with launching an advertising agency by the name of Time & Vision which was a family business.
Later, outdoor media gained my attention as I noticed a dearth in the industry for effective communication, which causes massive delays in operations, coupled with lack of research.
With that idea in mind, I initiated Sign Source in partnership and for the past decade or so, we kept adding smaller sub divisions to the company for sports marketing and transit media.
In 2008, we consolidated all those divisions into Fiber Tech media.
Currently, I am a shareholder at Sign Source and about to start another company of my own called Outdoor Advertising Assets (OAA).
So at OOA, we're trying to consolidate the missing elements and make everything available to advertisers.
Synergyzer: What were the highlights of 2011 for the outdoor media industry in Pakistan?
Rafi: The industry has remained stagnant for a few years. There were certain governmental instructions like the one to cut electricity for billboards to conserve power that resulted in loss of revenue for the industry and to this day, many billboards remain without electricity.
But such instructions proved to be quite beneficial as this prompted the industry to explore other solutions, such as ensuring visibility even during the night by employing reflective skins and relatively lesser power consuming options like cutouts with generator-powered LED lights, backlit vans etc.
Also, the Sindh Advertiser Association for OOH has been consolidated which allows advertisers to voice out their concerns and opinions on a unified platform.
Synergyzer: Do you think outdoor media is innovating in our country?
Rafi: As far as mockups, cutouts or billboards are concerned, these constitute the tried and tested manners of OOH advertising which are being re-utilized. For example, cutouts have always been present in cinemas to promote films.
The world is moving on a completely new tangent as far as innovation is concerned with technology as a vital component. Pakistan, on the other hand, has gotten stuck in a vicious cycle of stagnation.
Moreover, marketers do not have the essential information required to make more target specific campaigns as there is no on-ground research being carried out. Also, it is important to take into consideration ethical practices in advertising when devising a campaign.
Synergyzer: Please give some examples of innovations in outdoor advertising happening internationally.
Rafi: Innovative solutions are not possible without the infusion of technology and with an enhanced sense of creativity.
For example, in Singapore, there were two outlets competing for maximum sales. One outlet utilized OOH advertising creatively, allowing people to scan codes from billboards giving them all the information they needed about products on their smartphones.
These sort of examples speak volumes about how technology is being utilized to its maximum capacity but given the speed in which technology innovates itself, the maximum potential of technology today is half the potential of technology tomorrow.
Synergyzer: What is the cost difference between vinyl-based billboards and reflective surface billboards that are a more current norm? What about brand mockups?
Rafi: There is around 600% difference. A regular front lit would cost anywhere between Rs. 15-23, whereas the reflective ones would start around Rs. 110-150/sq ft.
A cutout or mockup would probably cost between Rs.10-20 thousand.
Synergyzer: How long is the production time for these new solutions? Is it different from earlier when there were just vinyl skins for billboards?
Rafi: It takes two to three days on average. Skin printing is a process which doesn't take more than a few hours and with the structure already in place all that is required is to stretch the skin onto it.
New solutions naturally require more work as they require a higher degree of manual involvement.
Synergyzer: What is the average duration for which a brand is displayed through a billboard? Is it different for mock ups?
Rafi: For mockups, usually it depends on the campaign but the rentals charged by the city government or cantonment bodies are for a week and can be renewed.
Billboards have permanent feature licenses usually awarded for one year.
The campaign duration in this day and age should not be for more than a month because after that people stop noticing it.
The average duration of a campaign these days is approximately a month, in some cases it can even go to three months to a quarter.
Synergyzer: How much is spent on outdoor advertising outside Karachi, Lahore and Islamabad (KLI)?
Rafi: As I stated before, we are unaware of the exact resource allocation in OOH advertising although it's an industry worth Rs.30 billion.
However, there are estimates which place OOH allocation outside KLI to somewhere between 2.5%-18%, which is hugely varied.
Synergyzer: There are a number of political billboards and banners placed on commercial brand displays. Who pays for them?
Rafi: Usually nobody pays for them, but I am sure there are certain political parties which are more ethical compared to the rest who do pay for acquiring billboard spaces during their political campaigns.
Synergyzer: Is there any method being planned to track OOH advertising?
Rafi: We are planning to start a tracking system. We have created a lot of functions and tools for marketers to track the reach and the efficiency of their OOH advertising which will be available in all metropolitan cities of Pakistan.
Synergyzer: Are the present laws for outdoor advertising conducive to business growth?
Rafi: There are governing bodies within every city with each one maintaining a different set of laws in their jurisdictions.
There is no uniform set of laws which is held true throughout Pakistan. This hampers the efficacy of the OOH industry.
Synergyzer: Are there any platforms for OOH businesses to address their issues?
Rafi: Every city in Pakistan has at least a couple of such associations, with each one having their own charter, which have yet to be followed.
This way, there are some efforts being carried out to bring outdoor media businesses together on a unified platform, but they are still away from achieving what they have planned.