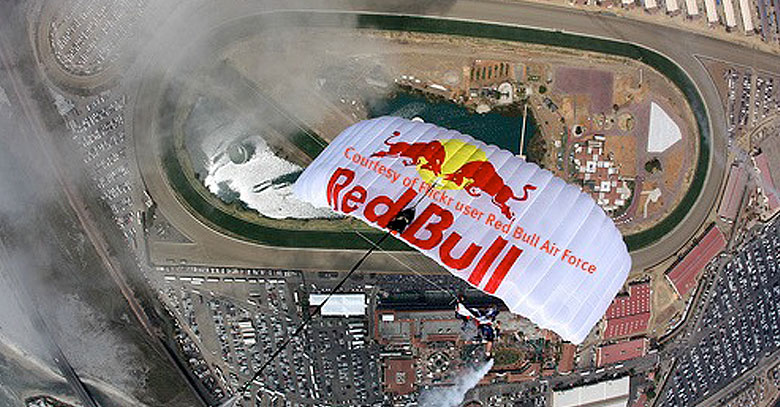 How many of you remember American author and journalist Ernest Hemingway's quote, "There are only three sports: bullfighting, motor racing, and mountaineering; all the rest are merely games." He said it with pure passion for the games and when I watched Austrian skydiver Felix Baumgartner's achievement for the first time I felt Red Bull re-igniting that passion in mankind. 
It was as Felix himself who put it as "One small step for man, one giant leap for Red Bull."
INSTAGRAM CAMPAIGN
On Thursday the social media powerhouse behind Red Bull's marketing strategy capitalized on Instagram's video feature. The clip shows Russian daredevil Valery Rozov base jumping from Mount Everest.
Instagram recently added its new video feature and where many brands are still struggling with it Red Bull seems to have hit the target. It previously posted only one video on its profile, but with this clip it took full advantage of the new feature receiving 29,000 likes in its first 12 hours on Instagram.
After the overwhelming response from Red Bull's 850,000 followers the video clip and Red Bull were declared an instant hit.
The interesting bit about this video is that it is not new; Red Bull shared a longer video of that feat on YouTube back in May. That original clip has since been viewed more than 340,000 times.
EXTREME EVENTS
Spending next to no money in TV or radio commercials, Red Bull has masterminded the marketing strategy by alienating itself from traditional antics of advertising. It creates events rather than sponsorships, this gives ownership to Red Bull and the target audience suddenly sees a whole new perspective of what the brand is all about.
Red Bull has associated itself with extreme sports by creating events such as Red Bull Road Rage, Red Bull Air Race World Championships and Red Bull X-Fighters. With events like these Red Bulls seems to have broken through all the 'noise' that other brand create and has found a unique place for itself in the market.
STUDENTS AS BRAND AMBASSADORS
Events however aren't the only things that keep Red Bull in the marketing game. The strategy to have students as Brand Ambassadors, who are active in campus life, play a major role in promoting their energy drink.
This allows Red Bull to keep in touch with the latest 'happenings' of the universities and develop a personal touch with the students.
Red Bull has a worldwide reach and continues to grow its brand portfolio, leaving its competitors baffled with its popularity. Red bull shows no sign of slowing down and by nailing this attempt to redefine extreme, Red Bull has proven that you cut through the clutter and do something unique.
Each brand has a characteristic that could possibly be overwhelming. In this day and age, it's about engagement and enhancement of the message and Red Bull has achieved that in both ways.