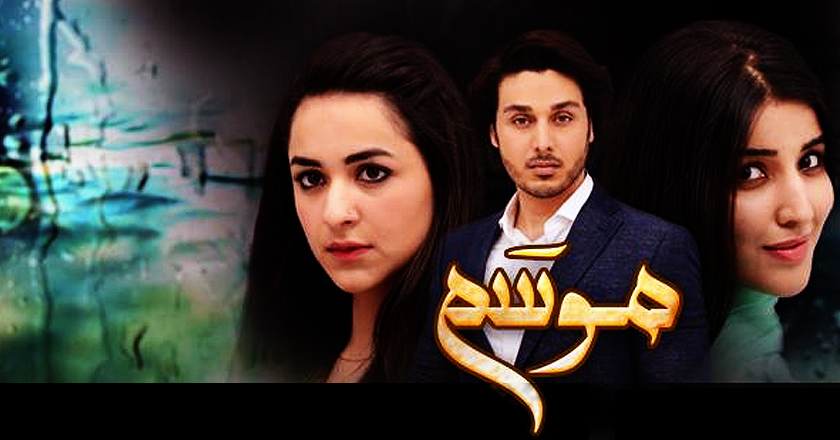 A twisted love triangle, sibling jealousy, family pressure and some tears – put it all together and there you have Hum TV's drama "Mausam" in a nutshell. 
Directed by Romi Insha, written by Aliya Bukhari and produced  Momina Duraid, Mausam is a new drama serial which has replaced the popular 'Muhabbat Subh Ka Sitara hai'  for Friday's primetime.
The serial features the-all-time- Romeo of Pakistani entertainment "Ahsan Khan" as Hashir, the new lady in the industry "Hareem Farooq" as Saman, and the oh-so-bubbly "Yamna Zaidi" as Shazia.
The story revolves around two cousins Saman and Shazia who belong to a middle class family, close to each other yet opposite as day and darkness.
Saman is the typical dream "bahu" and "beti" of every aunty while Shazia appears to be all about glitter and glamour. 
Then there is the super rich, cool dude Hashir who pops up out of his wealthy kingdom one sunny morning, marking the beginning of the very necessary love triangle of every Pakistani serial.
Shazia, though engaged to a guy name Faisal, falls for the charismatic Hashir and tries to entice him via her evil schemes. But Hashir has zero interest in her and remains "Devdas" about her cousin Saman.
Poor Saman becomes the "qurbaani ki bakri" in the drama and is forced to marry Faisal because the "crazy- about- Hashir" Shazia refused to tie the knot with her fiancé.
The story then continues with a much predictable plot and twists with all of the characters stuck in their unhappy lives.
It seems that the drama will end with the damsel-in-distress Saman getting a divorce like every other heroin in any drama and then living happily ever after with Hashir in her second marriage.
Meanwhile, Ahsan Khan just can get enough of playing a heartbroken drama queen in all the scenes. Also, someone needs to tell him to lessen the amount of make up on his face and change his sloppy hairstyle.
Apparently, Mausam started on quite a high note with a good OST and exciting promos but was sadly unable to reap any outstanding reviews from the media circuit in its history of 14 episodes.
What are your views on the drama "Masuam"? Share with us in the comments below.
Disclaimer: The views expressed below solely belong to the writer and does not necessarily imply Brandsynario opinion towards an individual or a group.