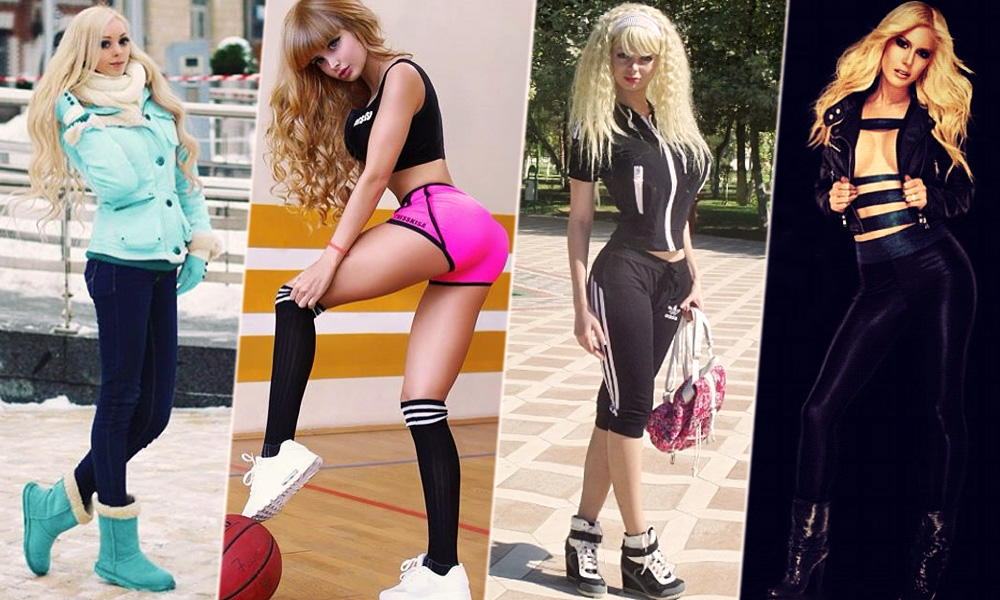 In this day and age of seemingly increasing preoccupation with the need to look 'perfect' and 'beautiful' at all times, it is no surprise that a trend such as that of human doll lookalikes would pop up. A number of people over the world seem to have dedicated their lives to striving for the perfection that dolls present – the majority looking to the iconic Barbie doll for guidance.
While some only enhance their pre-existing features to encapsulate a doll-like persona, a lot of these people go above and beyond, performing multiple surgeries and molding their entire lives around this idea of Barbie-like beauty and perfection.
While one would think it would be difficult to gather a high enough number of such people to compile a list, the reality is that too many such people exist, far exceeding the limits of a simple list. So here are ten of the most intriguing cases of human Barbie dolls from around the world.
Angelica Kenova
Angelica is one of the more recent Barbie-inspired people who have come into the limelight, and she really leaves her mark.
https://www.instagram.com/p/9CQffHwRxN/
This 26-year-old is a resident of Moscow and has all the requirements guaranteed to turn one into a living doll.
https://www.instagram.com/p/4RnX5LQR-8/
Apparently Angelica was pushed into this plastic lifestyle from the tender age of six, with her parents pressing and forcing her into looking like the human personification of a Barbie girl, and even had a personal trainer at only 16.
https://www.instagram.com/p/7sl747QR-D/
She has an unbelievable 20-inch waist, a 32E bust, with long legs and an overall weight of 89 pounds.
https://www.instagram.com/p/6rKmfjQR5N/
Angelica still resides with her parents, and lives her life as if a part of Barbie's perfectly choreographed life.
https://www.instagram.com/p/7VNjYFQR8P/
Lhouraii Li
Lhouraii Li is an eccentric nail technician, with her art being inspired by Barbie among others, like fairies, unicorns, fictional characters, and Disney princesses.
Li resides in Bradford and started off as highly interested in Gothic style, and has now evolved her sense of fashion into a lifestyle revolving around dolls.
According to her, she can take as much as up to four hours just to complete her makeup, and employs the use of eye lenses that give her eyes a larger appearance, and surprisingly, 14 layers of fake eyelashes.
The woman is active on YouTube, going by the username 'LIGYARU', and uploads tutorial videos of her makeup routines.
Lolita Richi
Lolita Richi claims to be the ultimate human Barbie, and that too without any surgeries to alter or enhance her features. 
The teenager was born in Kiev, Ukraine, and has garnered quite the following on a Russian social media platform called VK, all because of her 20-inch waist and 32F bust size.
Her mother, a 33 year old who is also Lolita's photographer, is fully supportive of her daughter's pursuits.
While Lolita seems to be enjoying the fame of being a Barbie come to life, she has plans to become a psychologist after graduating.
Jenny Lee
Jenny Lee first came to media attention when she was featured on Oprah Winfrey's show in the year 2004.
Oprah herself compared Jenny to a Barbie doll, commenting on the plastic features Jenny had cultivated after undergoing 26 procedures for cosmetic purposes.
Jenny was 28 at the time, and the surgeries and procedures she had endured included  lip implants and liposuction.
Hers was definitely a plastic surgery addiction spinning out of control, as years after the Oprah show, it was discovered that Jenny had undergone 33 more procedures before the age of 30.
Valeria Valeryevna Lukyanova
Native to the Republic of Moldova, Valeria Lukyanova is a model based in Ukraine, and used to sport a much more darker and Gothic look as compared to her current more bubbly look.
She has big blue eyes, with a slim waist and legs that go on for miles – a standard necessity when posing as a Barbie look-alike.
This is where it gets a bit more wackier than usual – Valeria undergoes hypnotherapy and is reportedly mentally 60% Barbie.
The story just gets weirder, as Valeria is also working on eventually cutting food out of her diet and living off of solar energy.
Her popularity has had its ups and downs, due to her claims of having had no surgeries or cosmetic procedures and some racist comments made by her.
Alina Kovalevskaya
Ukraine seems to have real life Barbies just walking around, with Alina Kovalevskaya from Odessa, a psychology student with a startling resemblance to the Mattel dolls, included in the mix.
Her legs are long and graceful, with abundant blonde hair and porcelain skin.
She has not had any surgeries as of yet, and avoids the sun's damaging rays to maintain her skin.
Her eyes are also a striking aspect of her look, being large and doll-like, and Alina uses special contact lenses as a way to emphasize her Barbie features.
Heidi Montag
Gaining her fame from the MTV show The Hills, Heidi Montag is a 23-year-old fashion designer and singer who has had up to 10 plastic surgeries in only one day.
Heidi was a guest on The View, a daytime talk show, where she revealed how she agreed to undergo a body transformation to combat her insecurity.
Going through such grueling procedures naturally had many challenges, and yet she braved them in order to achieve some peace of mind about her self-image.
Heidi has gotten liposuction, breast augmentation, a brow lift, a nose job, and an ear pinning done.
Pixee Fox
Pixee Fox is a model who had six ribs removed to achieve a 14-inch waist and look like a doll.
https://www.instagram.com/p/BA_cSd1EyFA/
Pixee found fame after investing more than $119,200 (£79,160) on complicated plastic surgery, including a boob job, facial interventions and a lift to her bottom, to achieve her look.
https://www.instagram.com/p/BBaqw45kyPd/
Pixee cites her inspirations as Jessica Rabbit, Aurora from Sleeping Beauty and Holli Would from Cool World.
https://www.instagram.com/p/_eFq09kyBH/
In her younger years, Pixee lived a much less glamorous existence living with her parents and older sister in a small rural town outside of Stockholm.
https://www.instagram.com/p/BBoxG0hEyKx/
Charlotte Hothman
Another fanatic is Charlotte Hothman, who has spent over £10,000 on plastic surgery to attain the Barbie look.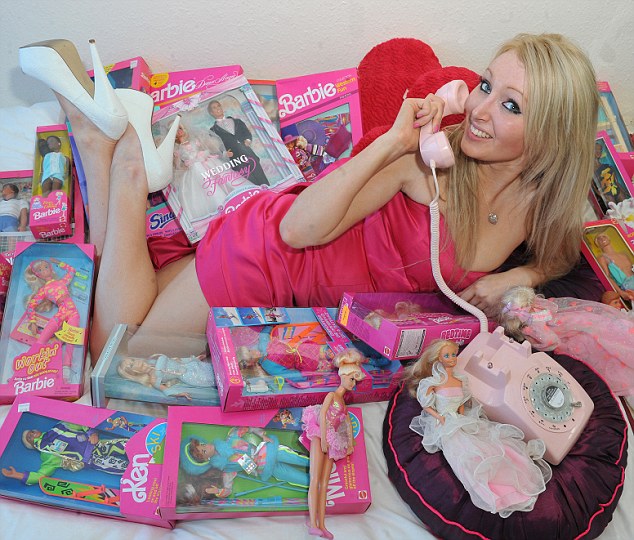 This 24-year-old underwent a nose job, dyed her hair blonde, and augmented her lips in order to look like a walking and talking human Barbie doll.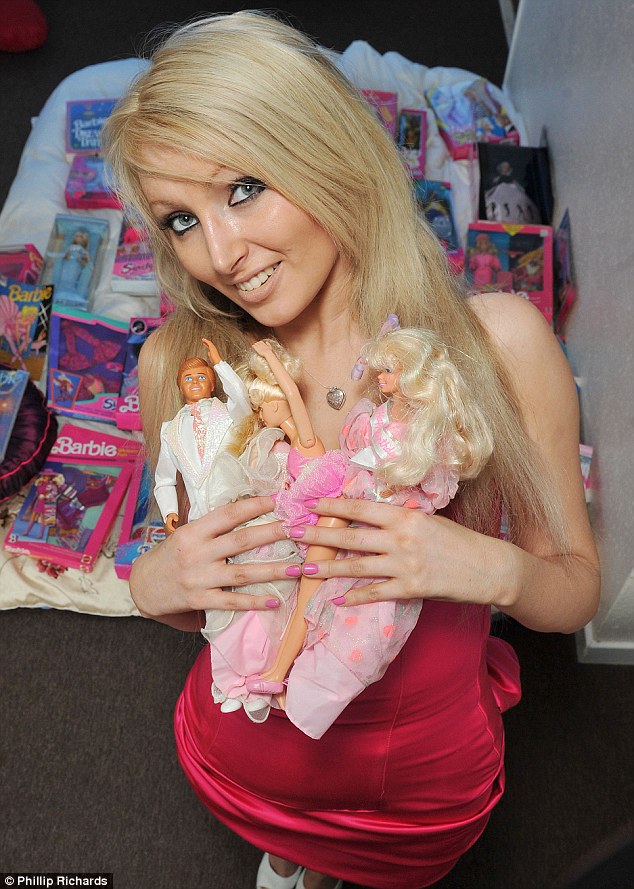 Justin Jedlica
Of course, in this world of Barbie lookalikes and wannabes, we can not forget about the Ken doll impersonators. Or rather, one riveting impersonator in question.
Justin Jedica is a 34-year-old Slovak-American, and is referred to as the 'Human Ken Doll' due to his perfectly plastic appearance.
The man has invested in some heavy duty cosmetic surgeries and procedures.
These include 5 rhinoplasties, a cranial brow lift, sub-pectoral and thigh implants, abdominal and calf implants, lip augmentations, e.t.c.
He is very dedicated to his cause, even going as far as to risk blindness to carry out a risky procedure to remove veins on his forehead.
Justin is not done by a long shot, and assures more transformations in store for himself in his path to perfection.