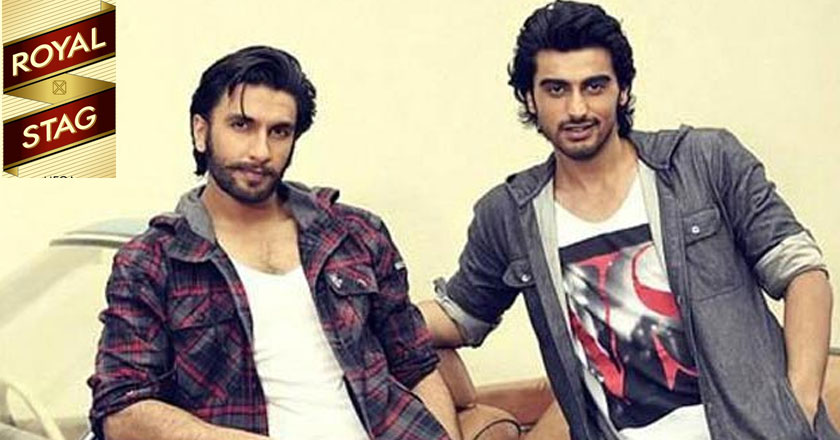 Two of Bollywood's current heartthrob – Ranveer Singh and Arjun Kapoor have been roped by India's premier alcohol brand Royal Stag.
The duo became fast friends after starring together in action thriller 'Gunday'.  The movie did a decent business on the box office but Arjun and Ranveer were widely criticized for their loud acting and excessively greasy bodies.
According to reports, the upcoming campaign for the liquor brand will begin this month but Shahrukh Khan will remain the undisputed face of Royal Stag.
Commenting on their endorsement deal Ranveer said,
"I've always identified with Royal Stag's philosophy of – 'It's your life. Make it large'. I believe in giving my 100 percent to everything that I undertake. Arjun is also thrilled and said he also believes in the brand's philosophy of making each moment count, giving it all and taking chances to make it large in life."
"For me, it's important that you feel passionately about what you do and what you represent," he added.
Royal Stag has previously been endorsed by a long list of cricketers including Gautam Gambhir, Glenn McGrath, Harbhajan Singh, Jonty Rhodes, Mahendra Singh Dhoni, Ricky Ponting, Robin Uthappa, Stephen Fleming, Wasim Akram and Yuvraj Singh.
Royal stag has also been involved in quite a few controversies; in 2004 Ex-Pakistani Cricket captain, Wasim Akram had to pay a fine and apologize to Pakistani nation for appearing in the liquor brand's public campaign.
Once again in 2006, Indian Cricketer Harbhajan Singh faced a serious backlash from Sikh community for letting his hair down for Royal Stag's Ad. The ad was later taken down and Singh had to aplogize to his people.
Stay tuned to see the ad featuring Arjun Kapoor and Ranveer Singh.